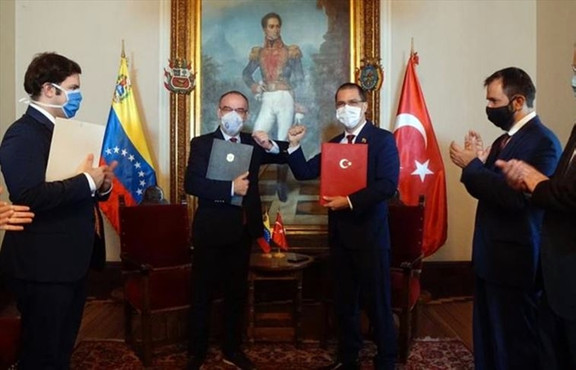 According to information received from Turkey in Caracas Embassy of the agreement, diplomatic notes informing both countries will come into force on August 21, Venezuelan Foreign historic building in the capital of the Ministry in Caracas Case exchanged were the with held a ceremony on Amarilla.
Turkey's Ambassador in Caracas at a ceremony attended Şevki Mütevellioğlu, Venezuelan Foreign Minister Jorge Arreaza and Deputy Ministers were present at the Ramon Gordils Yvan Gil.
Prime Minister Recep Tayyip Erdogan and Venezuelan President Nicolas Maduro's launched as a joint venture the two countries and the agreement signed at the end of intensive study of the relevant authorities, a number that will determine the nature of the investment relations with trade between Turkey and Venezuela poses the first of international agreements.
Turkey and Venezuela economies complement each other
Speaking at the ceremony, Venezuelan Foreign Minister Arreaza stated that the enactment of such an agreement as a result of the attempts of the presidents of the two countries during these difficult days in Venezuela meant a great deal to Venezuela.
The agreement of both countries in terms of economy, indicating that they expect to provide significant opportunities Arreaza, Turkey and the Venezuelan economy is not in competition, as unlike each other, having stressed that the structures were complementary.
Turkey's ambassador to Caracas Mütevellioğlu the agreement, which will be formally launched on August 21, would strengthen the legal basis of economic relations between Turkey and Venezuela.
Mütevellioğlu noted that the customs duties will be gradually abolished and trade procedures will be facilitated in a large number of products within the framework of the determined calendar, and pointed out the importance of continuing the trade between the parties within the framework of the "win-win" principle in accordance with the rules set out in the framework of bilateral agreements and international trade regulations.
Source: AA