Apple Watch Ultra Is Apple's strongest smartwatch, which is quite unusual. Because before the Apple Watch, it usually focuses on beauty. And can't use much, but come this round as hard as the name Ultra by increasing strength Can go more ruggedly Ready to mix with the premium perfectly. by getting a strong titanium case Longer battery life And important highlights like the built-in 2-wave GPS make it very accurate to locate. As for the functions of both exercises And follow up on health, it still comes complete according to the formula. It also adds functionality that meets the needs of active activities to the fullest.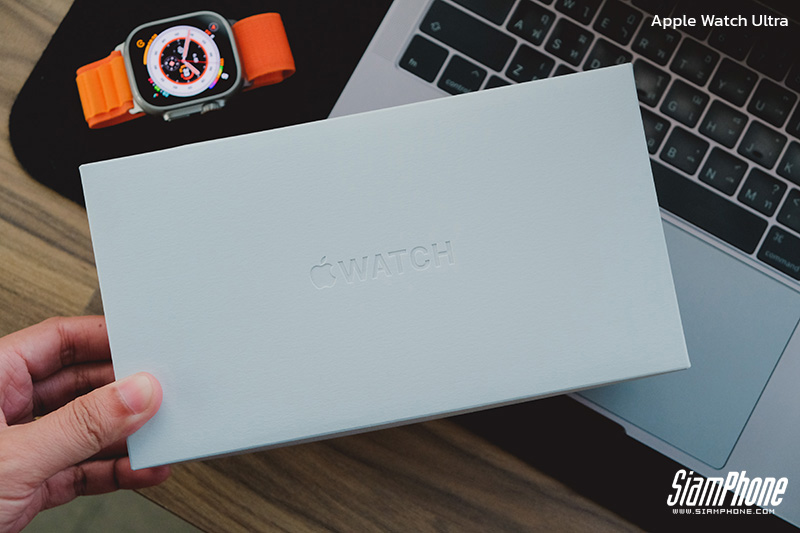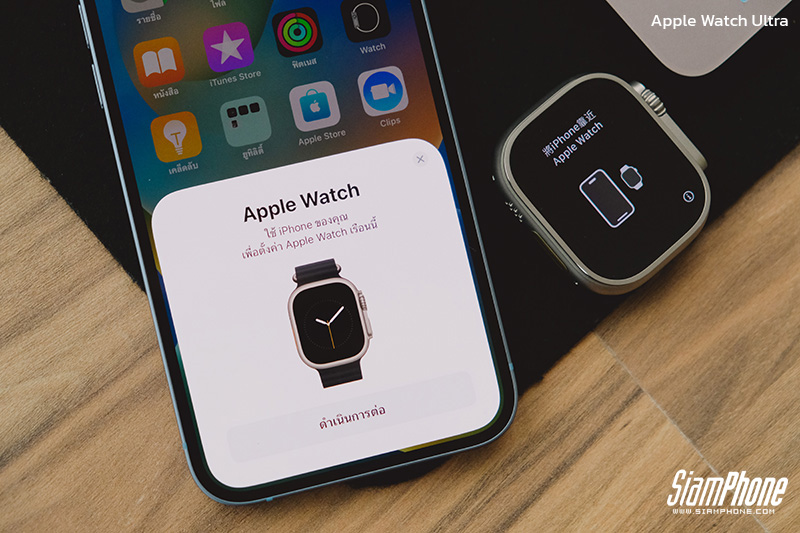 The case design is thicker but stronger.
Apple Watch Ultra It is designed for active exercise, especially for the case, using strong materials like titanium, which are strong but light in weight. Good corrosion resistance A flat sapphire crystal is also used to protect the bezel and dial. Apple Watch Ultra It's also MIL-STD 810H certified for military strength, ensuring it can withstand all the unusual altitudes, temperatures, variations, freezes, thaws, and bumps.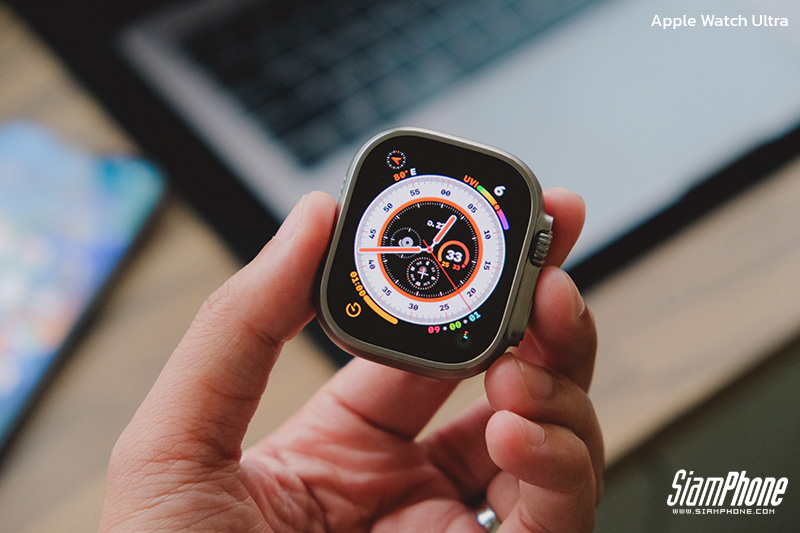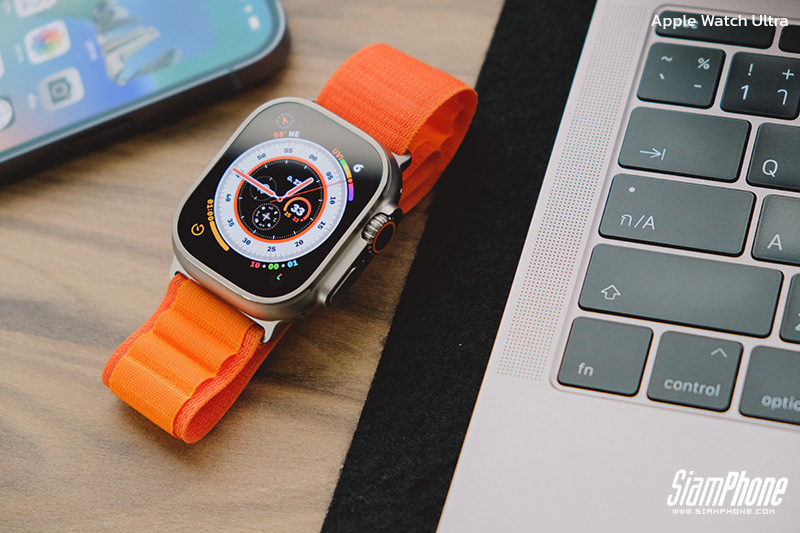 in terms of size Apple Watch Ultra It will be larger and thicker than the regular Apple Watch, including the Apple Watch SE, with a large dial size of 49 millimeters, so that women wearing it may look quite large.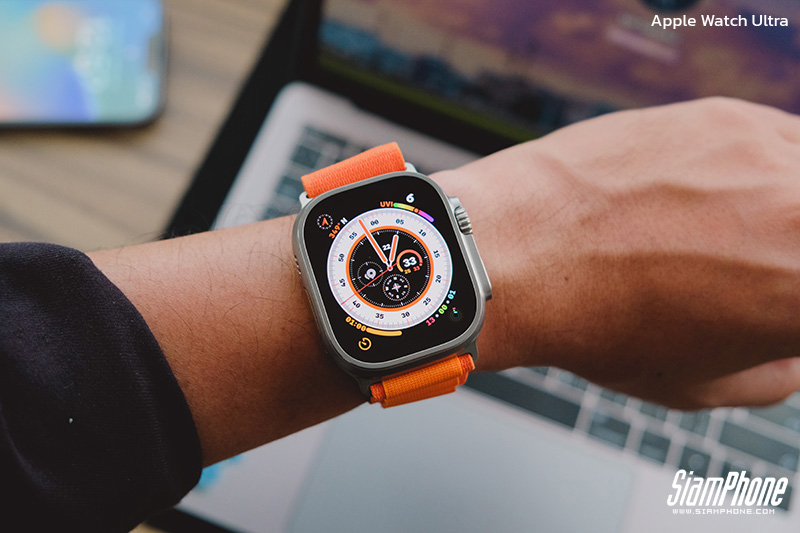 raised crown and side buttons are easier to use
crown and operation buttons on the side of the case It is also designed to be suitable for rugged activities. The crown is raised higher. To make it easier to use even if wearing gloves For additional operation buttons, there are 2 buttons, one on the left and one on the right. As for the usage of each button, see below.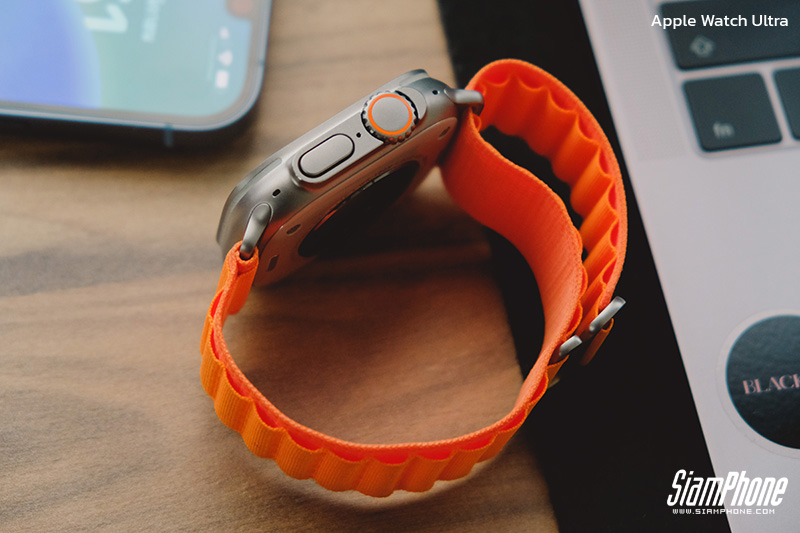 crown
– Press 1 time = enter all apps page, go back
– Rotate = Scroll, if in home screen will rotate to adjust to night mode screen
– Long press = to activate Siri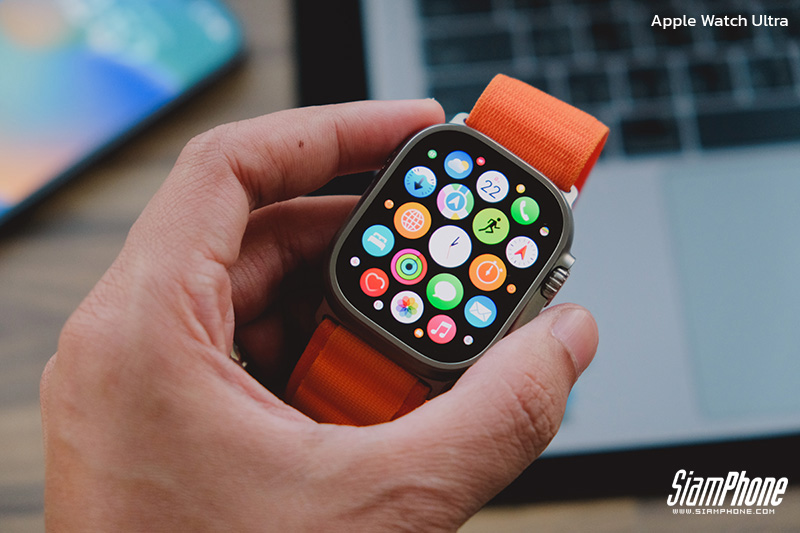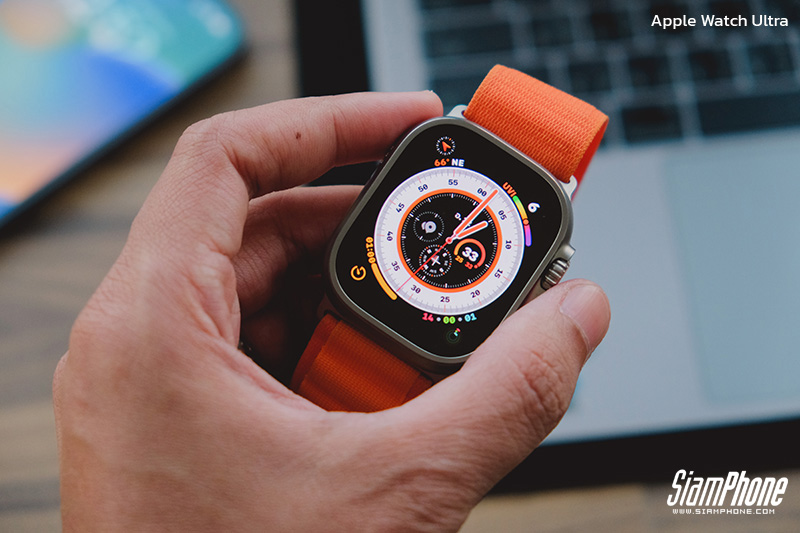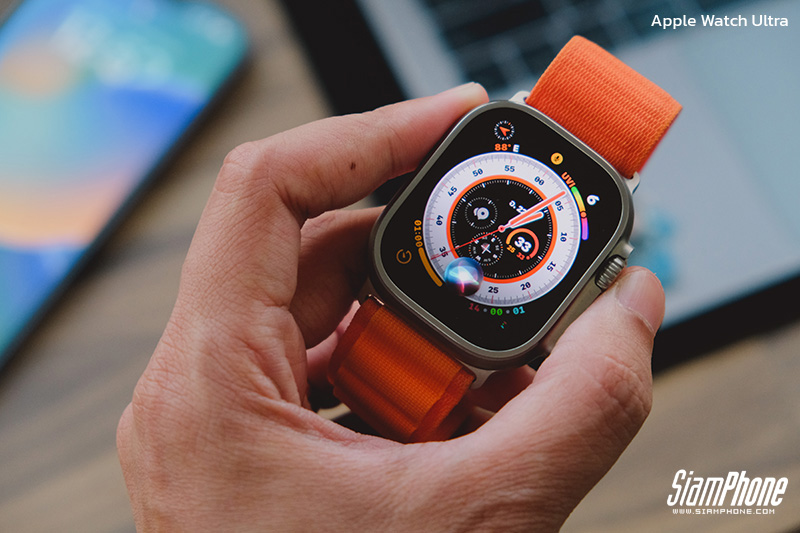 left button
– Press 1 time = run the app or tool set (adjustable)
– Press and hold = use emergency tools such as sirens and call SOS etc.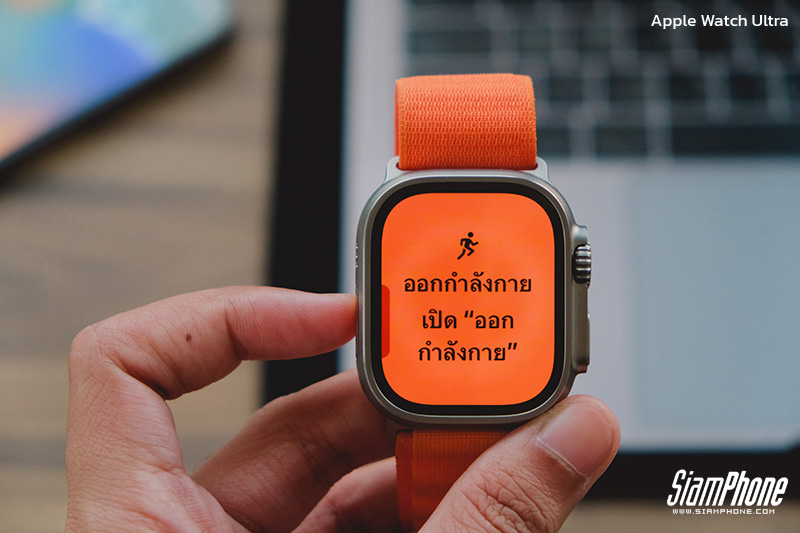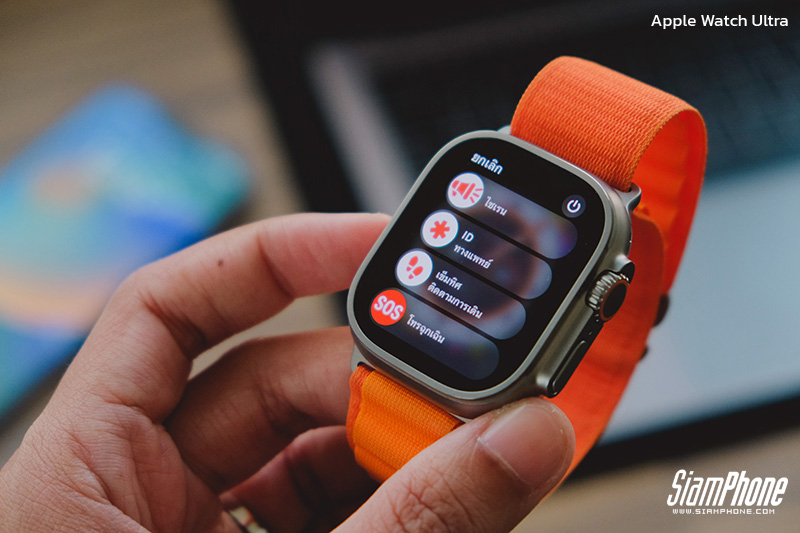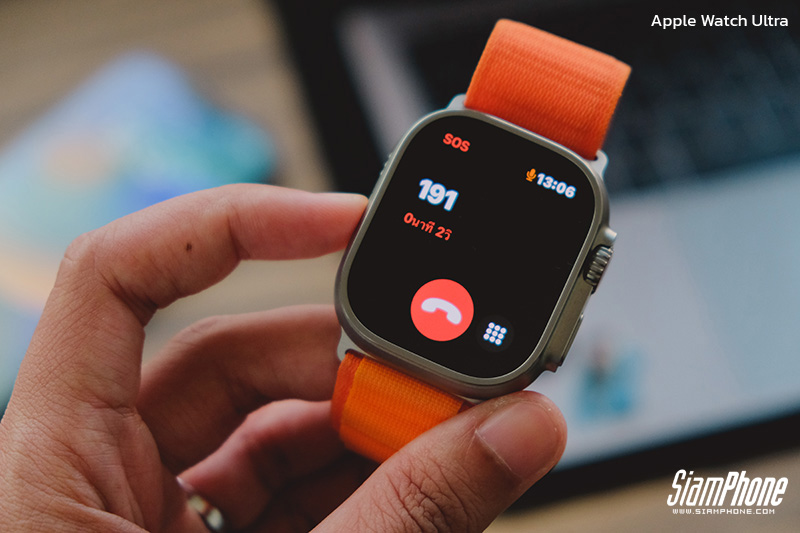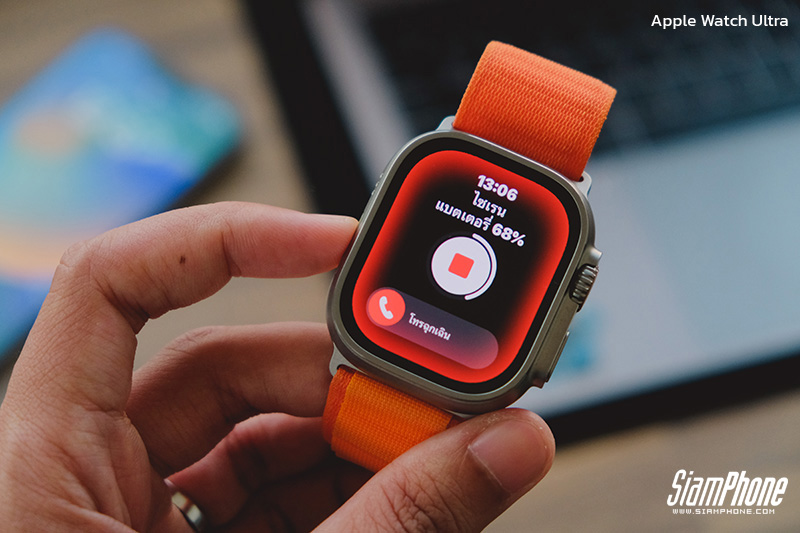 right button = View previously used apps Or press and hold to use emergency tools.
3 types of watch straps ready to go
As a smartwatch for heavy action Apple Watch Ultra There are 3 types of wristbands to choose from, including Alpine Loop, Trail Loop and Ocean Band, each of which is suitable for different uses.
Trail Loop = easy to wear for exercise
Alpine Loop = suitable for intense exercise
Ocean Band = Suitable for swimming or diving.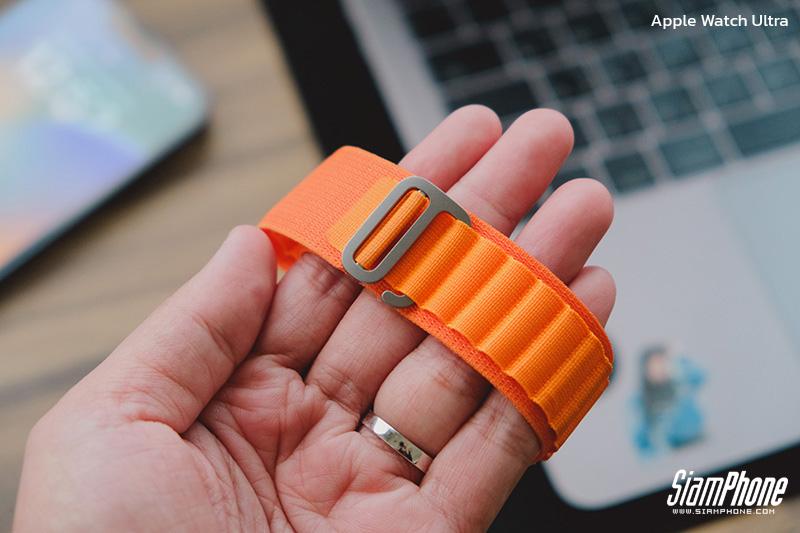 Retina display, 2000nits brightness
dial Apple Watch Ultra There is a larger size according to the house. and is a flat dial can display exercise data Or more activity information The screen also supports touch. Which, from the experimental experience, has a very smooth movement As for the display, it's clear. plus adjust the brightness up to 2,000nits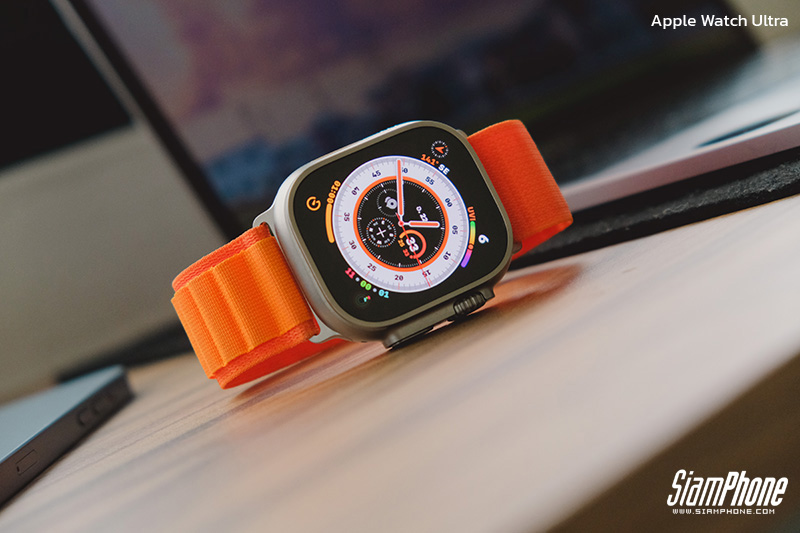 clock face design
The dial design is still as cool as ever. There are many to choose from. Ready to customize the widget on the home screen. There are also both animated and static backgrounds, as well as bringing Portrait images from the iPhone camera as a background. By designing different styles of dials More can be downloaded in the Watch app on the connected iPhone.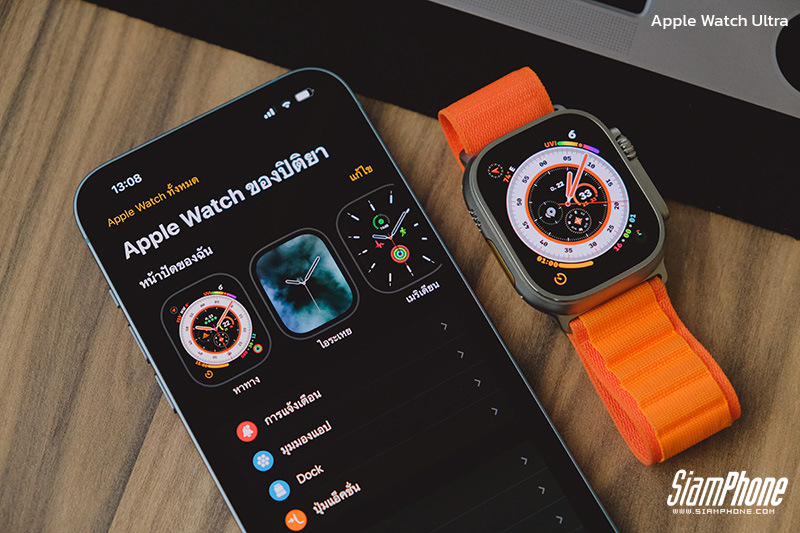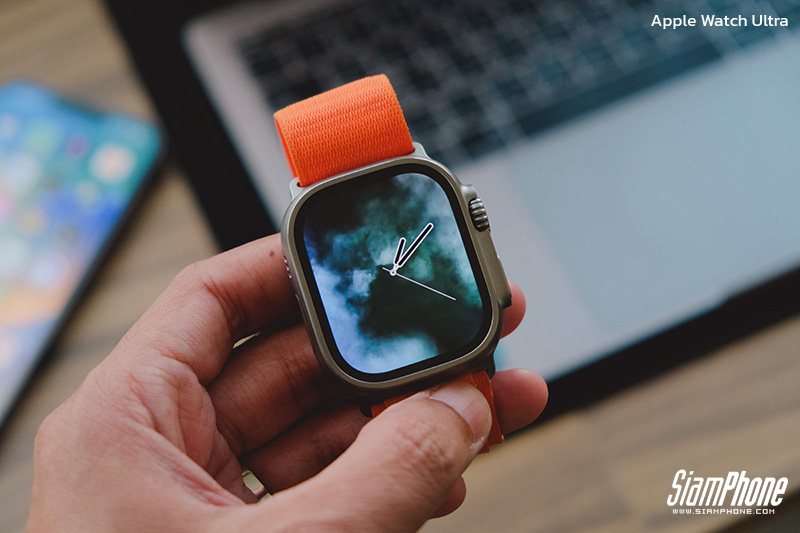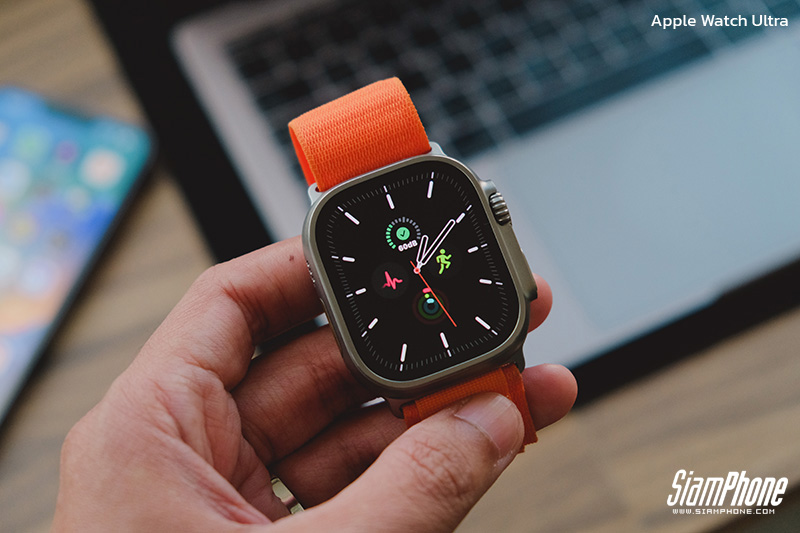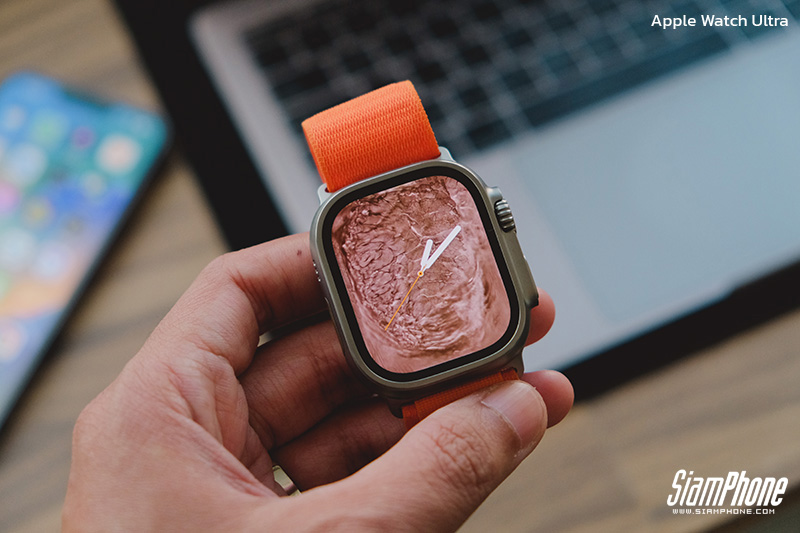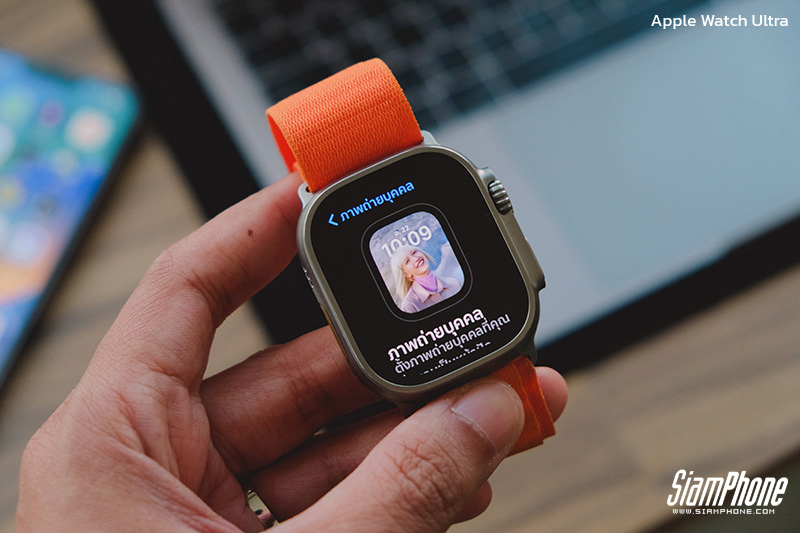 Night mode color dial Turn the crown to adjust the color.
This is a new feature on the watch face. Apple Watch Ultra because it can be adjusted to the night mode color Helps to use at night more conveniently. By using just turning the crown. The dial will change color to red, black background, can be rotated to adjust the level as needed. But it only works with supported designs. which in testing applied to the default watch face design
WatchOS is smoother
WatchOS 9 is the operating system on Apple Watch Ultra Which anyone who has used the Apple Watch before can use it easily. and a table of app combinations which is a beautiful sponge as before But added is a faster system. and more functionality and provide more information.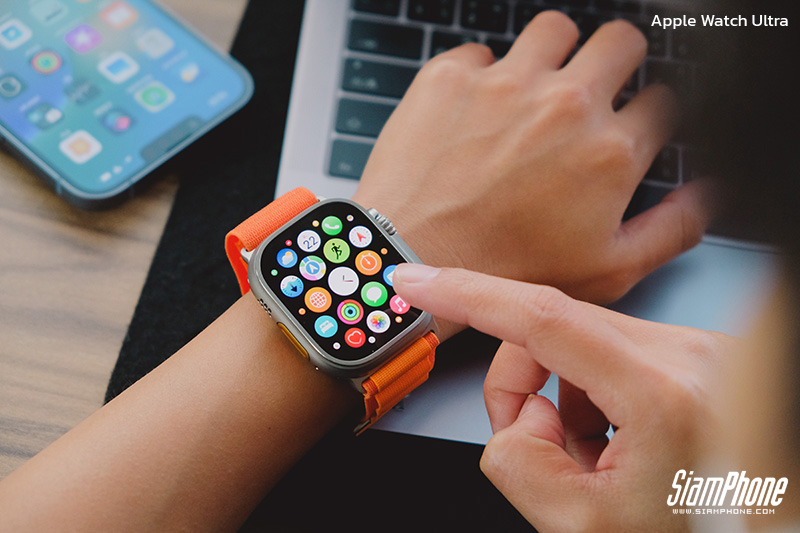 exercise mode provide more information
In conjunction with exercise mode It still answers the question well as always. Apple Watch Ultra Accurate exercise tracking Ready to give good insights during exercise. such as use in outdoor running mode The heartbeat information is told at what level. If you are in a high zone, it means that you are exercising too hard. There is also a running speed. floor contact and energy in running, etc. All of which can be viewed while exercising. And can also look back through the Health app on the iPhone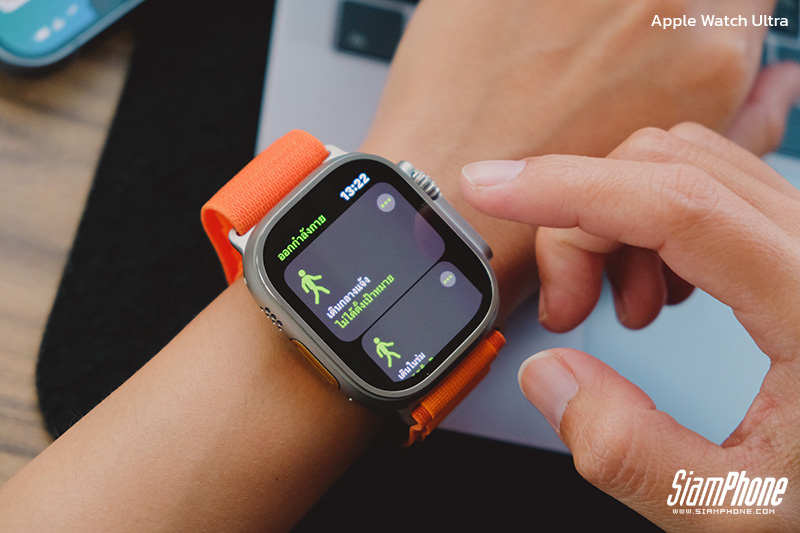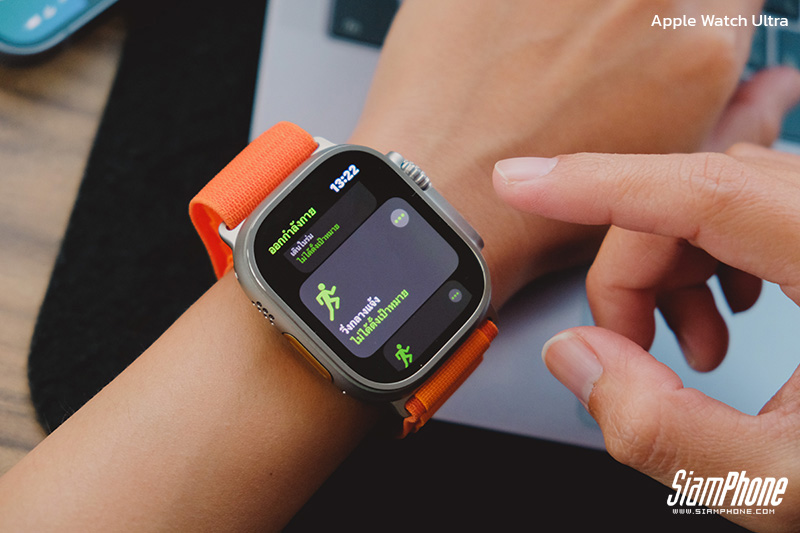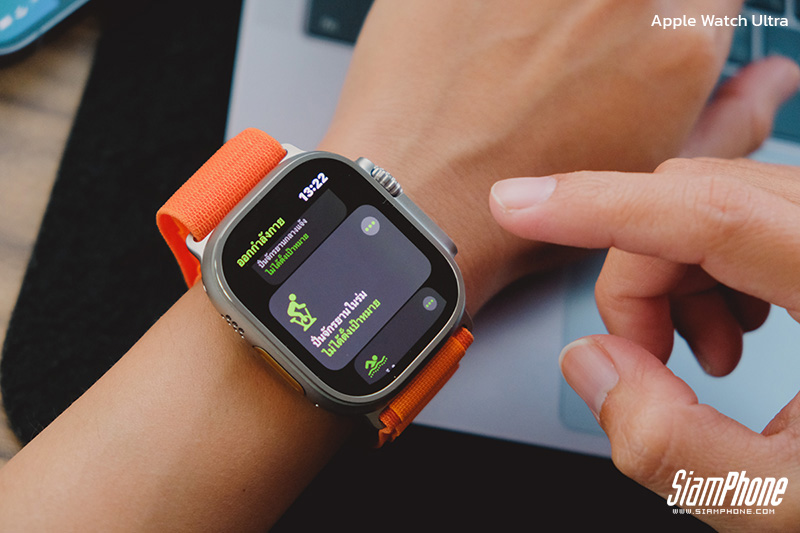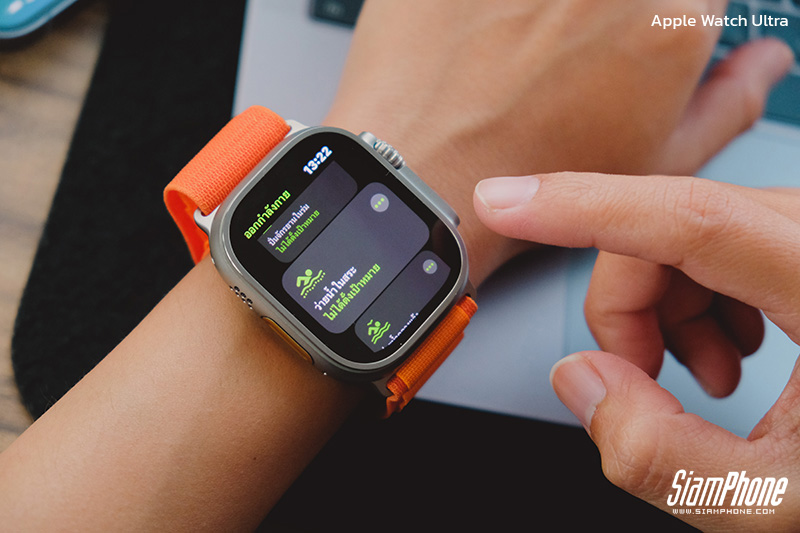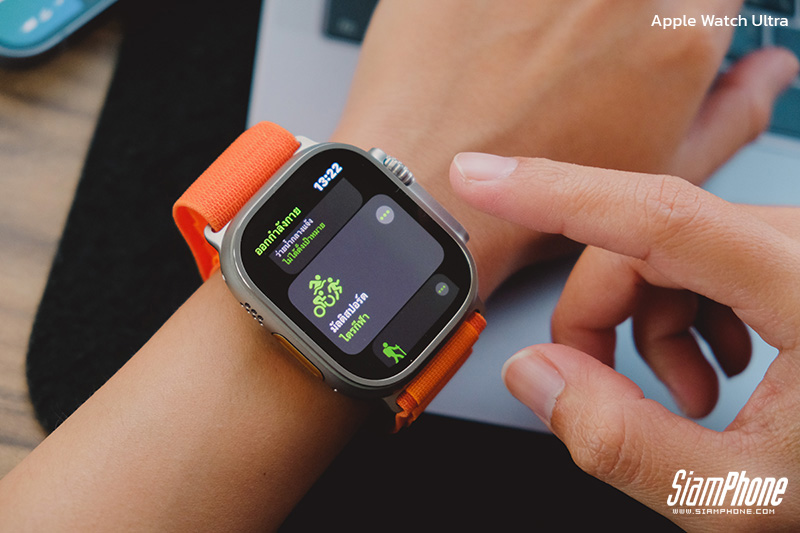 Equipped with built-in 2-wave GPS, positioning more precisely
specifying the location of Apple Watch Ultra There has been a lot of upgrades. Because the internal GPS system is used in 2 waves, L1 and L5, along with a new antenna design. Helps to work more widely and save more energy Of course, the implementation of the positioning system is highly accurate. No matter what type of place it is in, many tall buildings, in the forest, on the hill, it is also identified. and track the position precisely Including creating a map of exercise is also good.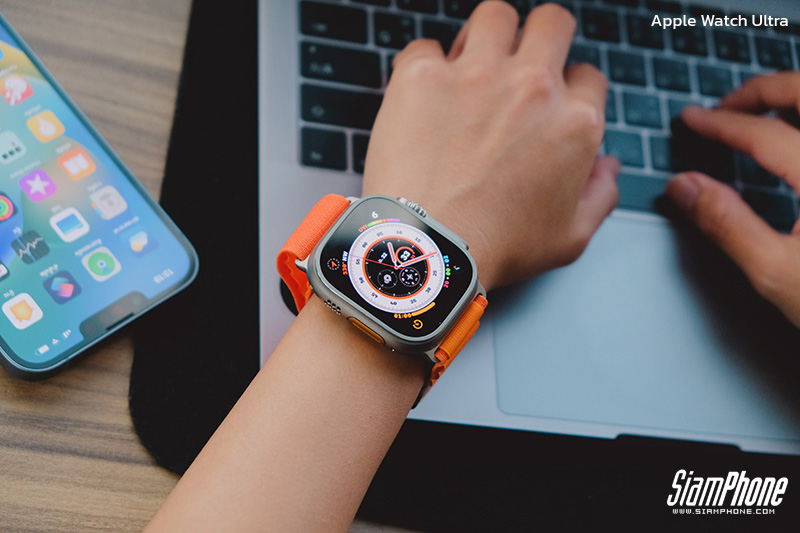 Waterproof to a depth of up to 100 meters and IP6X dustproof.
Must live up to the name Ultra, endurance must be stronger than normal models already by Apple Watch Ultra It can be waterproof to a depth of 100 meters and is dustproof according to the IP6X standard, making it comfortable to wear while swimming. Part of diving in the sea can be worn and ready to dive to a depth of 40 meters with the EN13319 standard, which is an internationally accepted standard, making Apple Watch Ultra Still a concept that can endure anywhere without worrying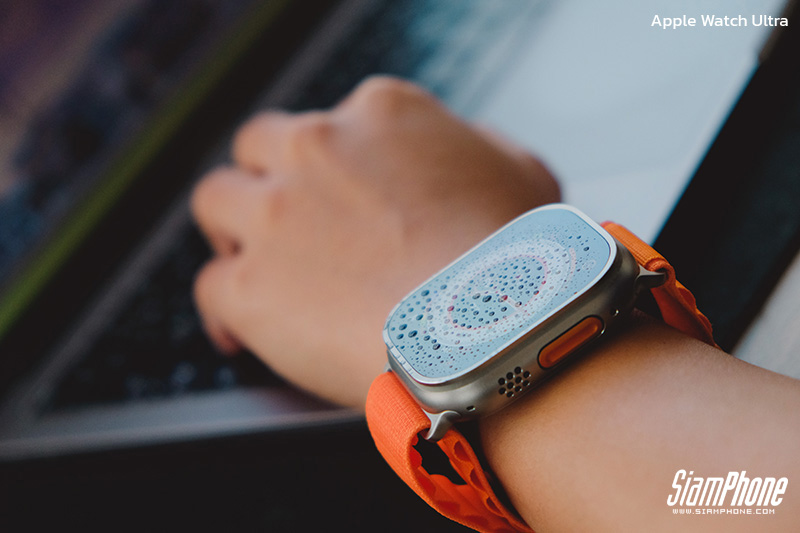 You can also see the depth while diving.
Diving lovers should be pleased with this function. because while diving, it can be opened Apple Watch Ultra See the depth of the water by using the app to see the water depth and highly accurate water temperature measurement Because the side of the case has a sensor hole to measure the depth of the water, especially the app also works automatically when the user dives into the water.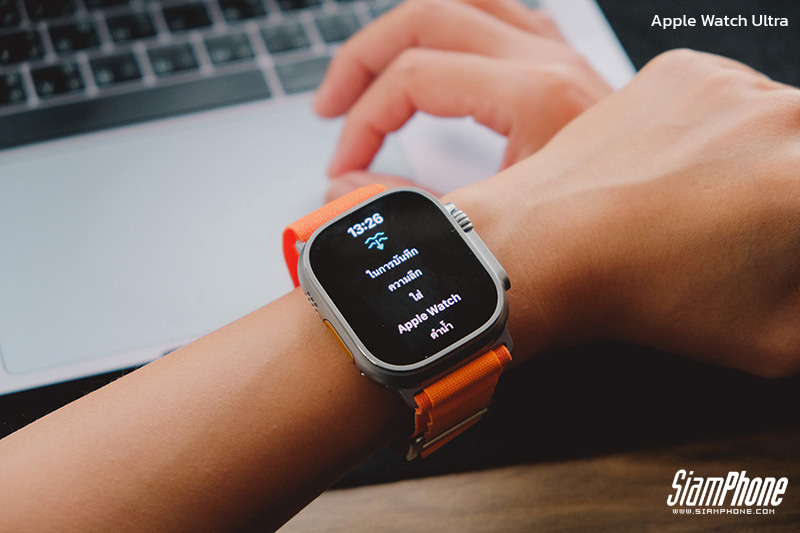 Full working compass
Use the compass on Apple Watch Ultra It is more than a compass that is at the direction of the compass because the app has added new functions. and looks more usable The interesting function is to pin the position. Which will pin coordinates in longitude and latitude when walking somewhere far away able to return to the pinned position precisely and can be embroidered many times position as well From here it might be suitable for trekking something like this. But in fact, it can be used in everyday life. such as pinning in a parking position It's not difficult to get back to the parking lot.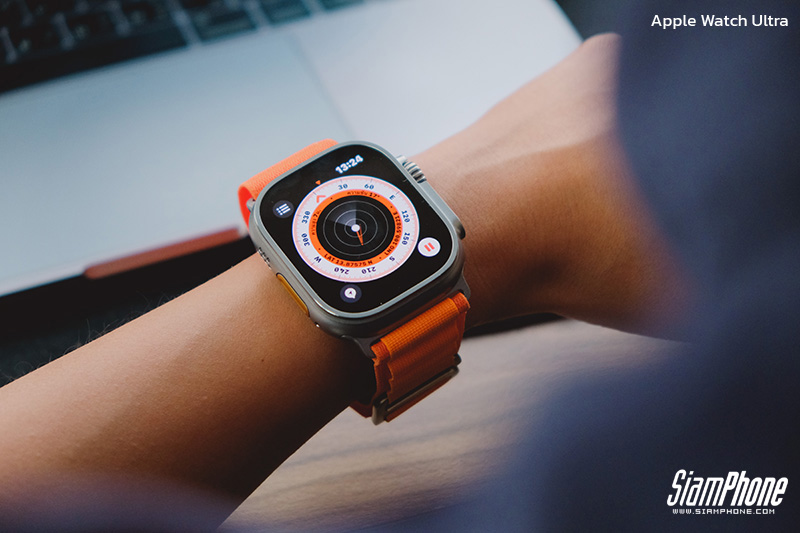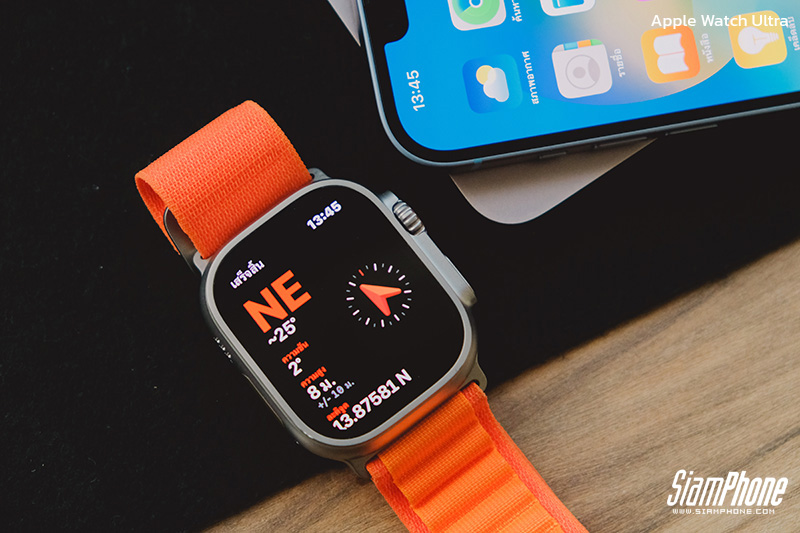 Health tracking functions are complete.
The health function is still available to use in full, mainly with new sleep tracking. with a more detailed description of the hospital's behavior during sleep There are also various automatic notification functions, such as reminding you to move if you have been sitting for a long time.
Measure your heartbeat = is a function that has always been with the Apple Watch, which on Apple Watch Ultra It still has to work precisely. and is measured in conjunction with other activities over time, such as exercise, etc.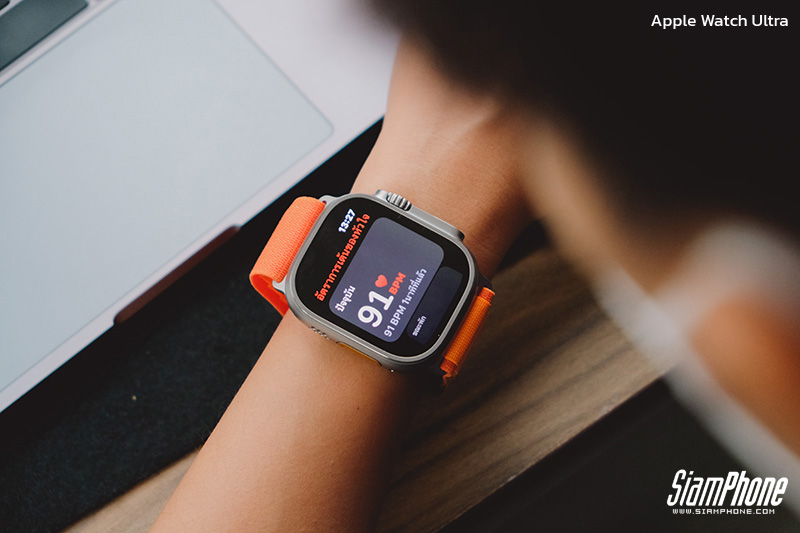 ECG = ECG or magnetic resonance measurement of the heart Now it can be used in Thailand with peace of mind. because it is officially open for use But keep in mind that ECG is not used as a direct medical device. and unable to detect heart failure In which if there is an abnormality with the body, it is better to see a doctor again. For ECG, it is better to start measuring yourself. which can follow the steps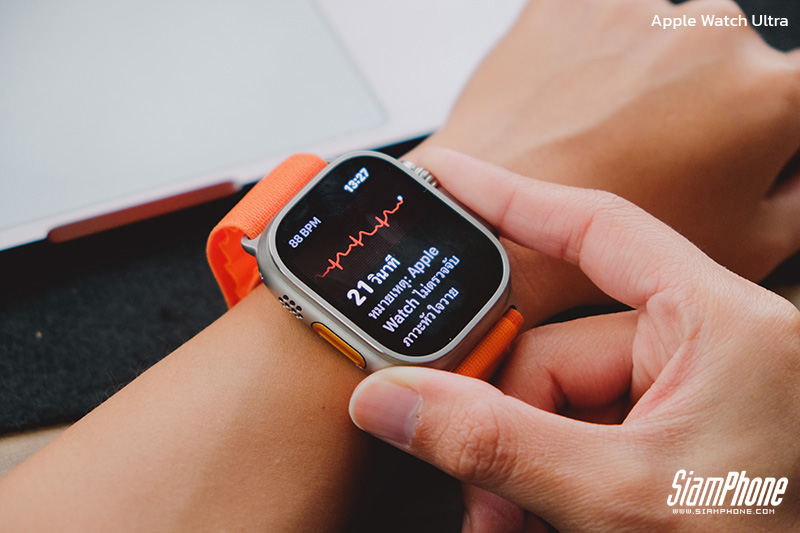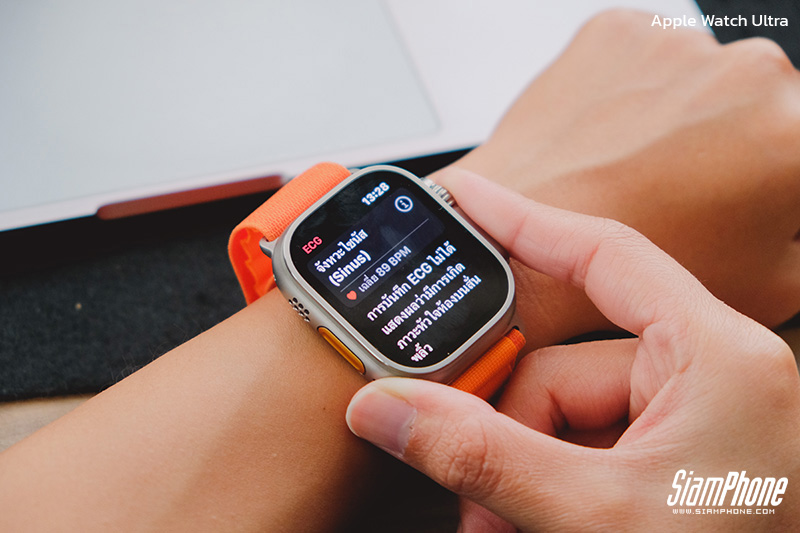 SpO2 = SpO2 is a measure of oxygen in the blood. which the system will tell you in % if there is a value that is lower than the standard should see a doctor again In this mode, the user must press to start measuring by himself.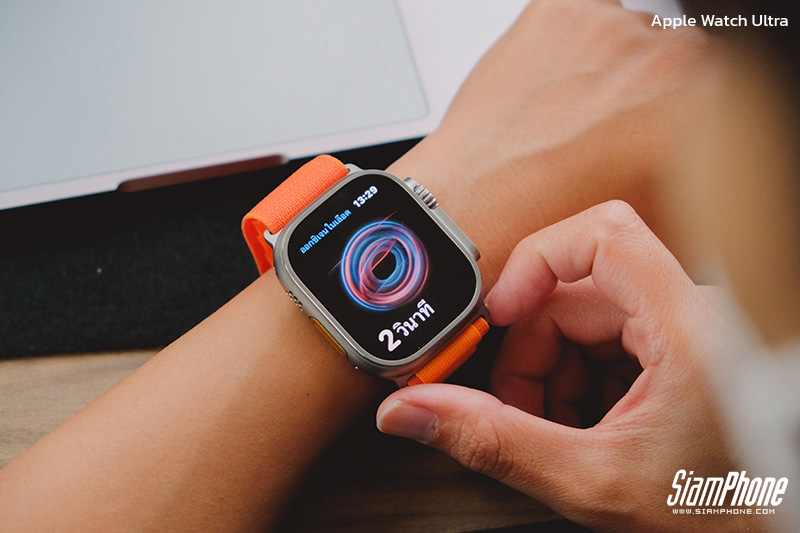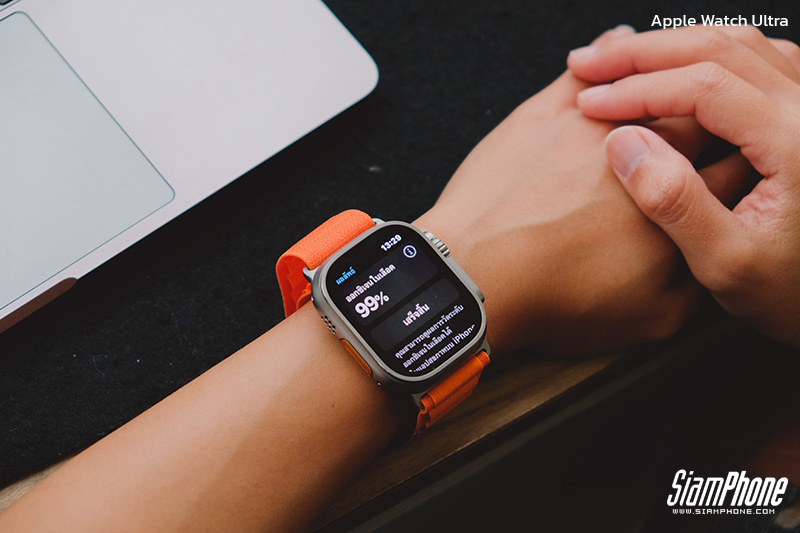 sleep tracker more detailed = sleep tracking mode will provide more insights during sleep By telling the sleeping behavior in each period, including deep sleep, shallow sleep, dream sleep, and real sleep, detailed information can be viewed in the Health app.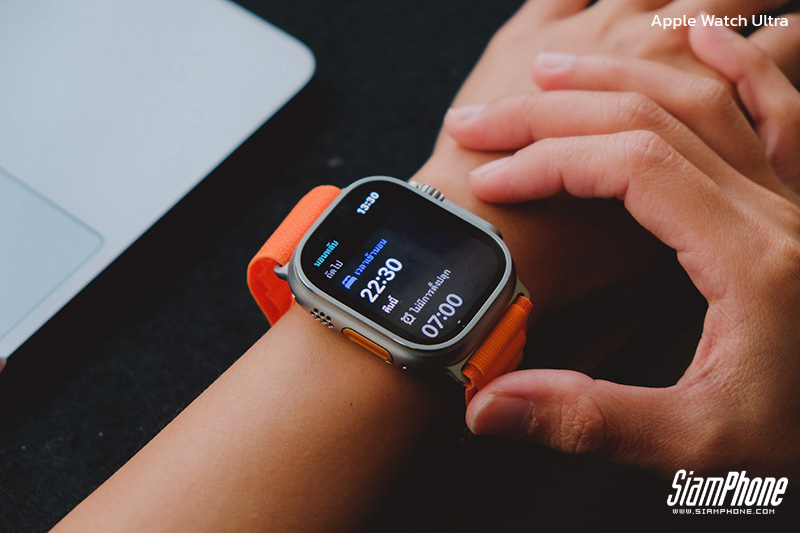 detect safety
In terms of security, it also works better. with automatic safety system This will send emergency alerts to contacts placed in the Health app, such as a fall, serious car accident, with Apple Watch Ultra pinpointing the contact's exact location. There is also an emergency SOS button to quickly contact emergency contacts. By pressing and holding the side button and move the SOS menu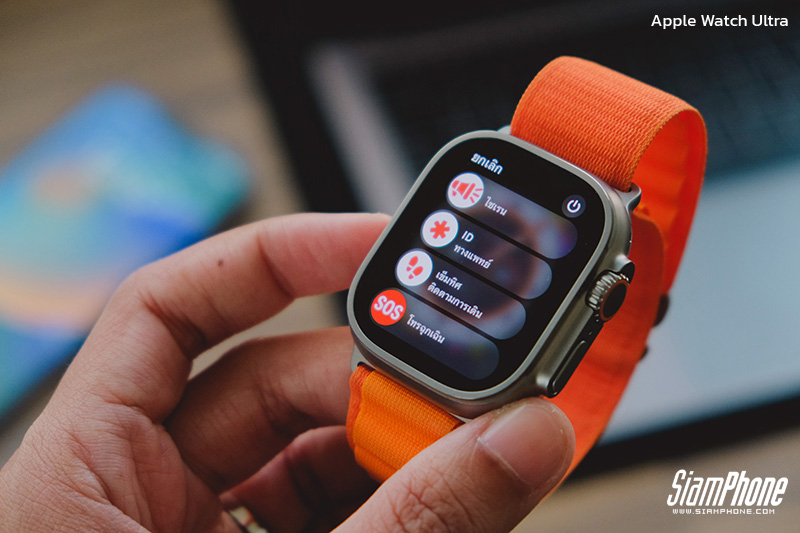 Turn on the siren for help with a loudness of 86 decibels.
Apple Watch Ultra can turn on the siren to notify the help message as well The sound of the siren is as loud as 86 decibels or the sound is as far as 180 meters. Using the siren is not difficult. Just press and hold the left or right button, then select swipe on the siren topic.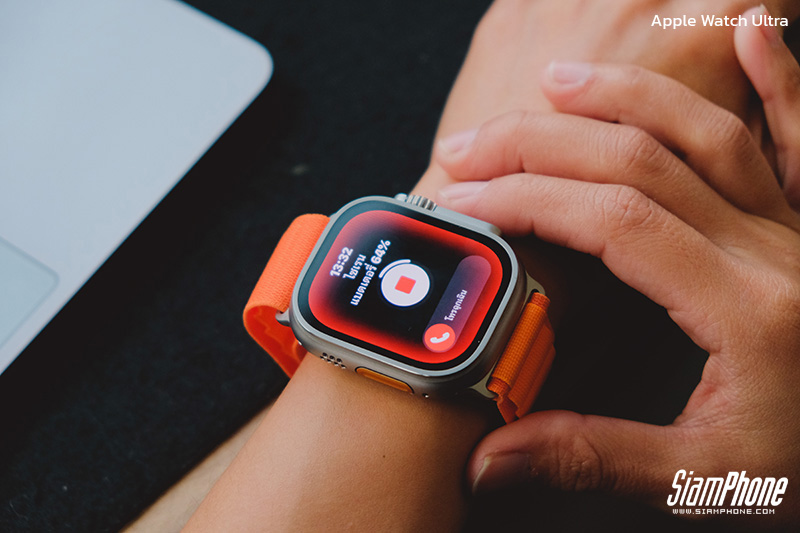 receive incoming calls Send messages, listen to music, view maps.
Apple Watch Ultra It will only be available in the Cellular model, enabling e-SIM to be used, which, if e-SIM is enabled, can receive calls. Or make a call right away. The Apple Watch Ultra also has dual speakers. and built-in microphone Makes the call considered fairly convenient. In addition, you can send and receive messages, listen to music, view maps without having to bring Apple Watch Ultra Go stay connected to your iPhone.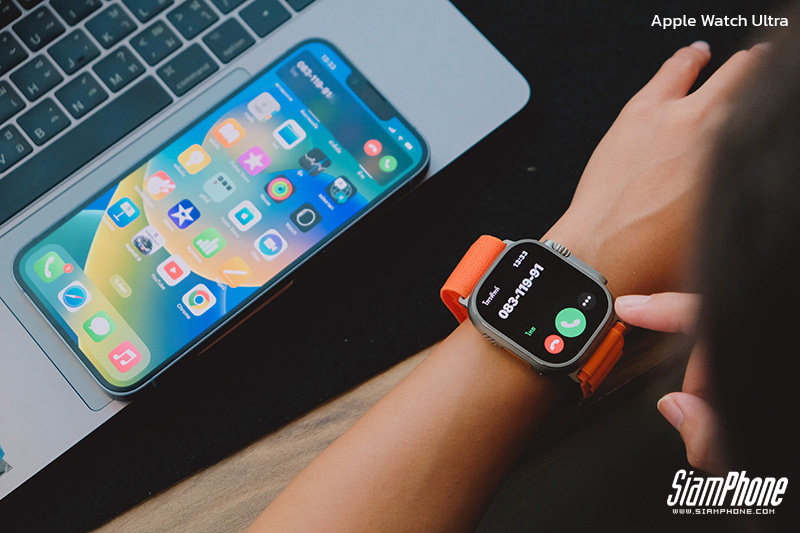 Other interesting functions
Other functions Interestingly, there is still voice command via Siri, just press and hold the crown. It is a call to use Siri immediately and downloading other apps to use is easy because there is an App Store that supports downloading other apps to use.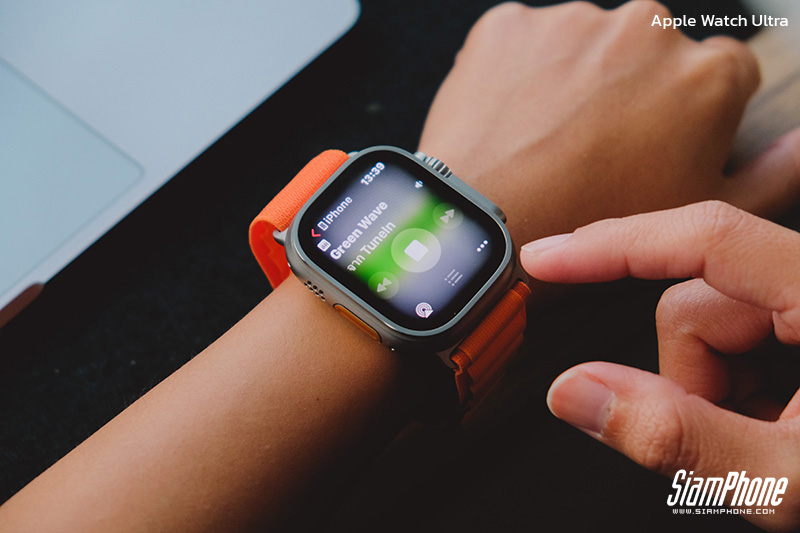 longer battery life
with a larger machine Apple Watch Ultra therefore able to carry a larger battery as well Makes more use per 1 full charge Which, from the test, does not work very hard It can be used for 2 days with 20% battery remaining, but in the future, Apple will update the power saving mode. Makes it possible to use up to 60 hours.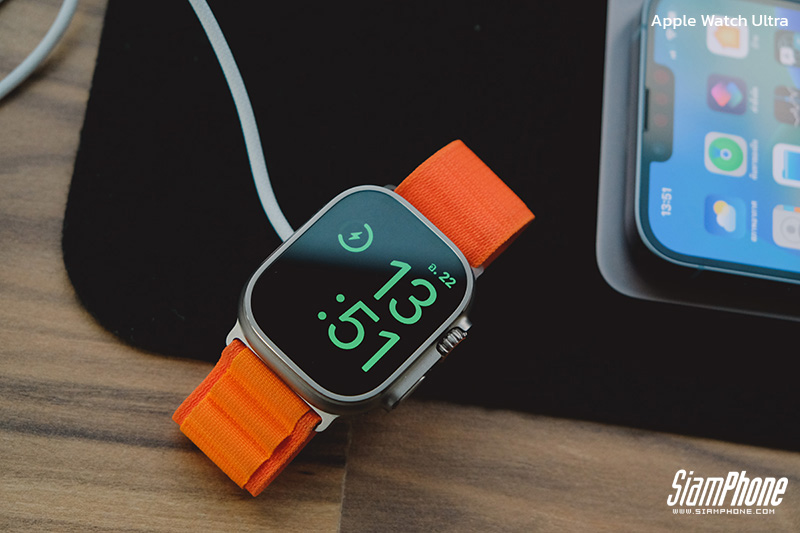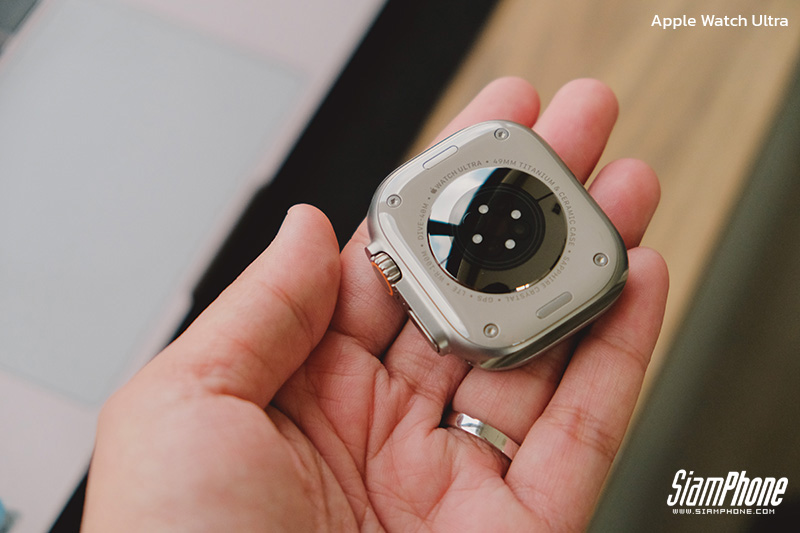 summarize
Apple Watch Ultra It has now been released in Thailand. It is available in only one color, gray, with a case size of 49 mm and is GPS + Cellular only, along with 3 strap options: Trail Loop, Alpine Loop, and Ocean Band, priced at 31,900 baht, available through the Apple Online Store. or link at the following address https://www.apple.com/th/shop/buy-watch/apple-watch-ultra
---
Source: Siamphone by news.siamphone.com.

*The article has been translated based on the content of Siamphone by news.siamphone.com. If there is any problem regarding the content, copyright, please leave a report below the article. We will try to process as quickly as possible to protect the rights of the author. Thank you very much!

*We just want readers to access information more quickly and easily with other multilingual content, instead of information only available in a certain language.

*We always respect the copyright of the content of the author and always include the original link of the source article.If the author disagrees, just leave the report below the article, the article will be edited or deleted at the request of the author. Thanks very much! Best regards!
---