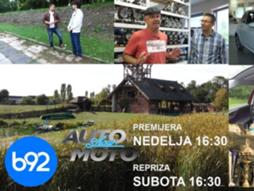 We continue to broadcast a completely new series of the Auto Moto Show.
On Sunday, from 16:30 on B92 TV, you can watch the new edition of the Auto Moto Show. You can watch a rerun of the show from the previous weekend on Saturday also from 16:30 on B92 TV, on Sunday from 12:30 on PRVA KICK kalnal.
Viewers in Montenegro can watch the show for the first time on Sunday from 16:30 on TV PRVA CG.
And in the new episode you will watch:
– SUMMER ADVENTURE IN SERBIA – INTRODUCTORY STORY AND SUGGESTIONS WHAT TO VISIT IN SERBIA
– MILET'S BUSINESS – MILE INVESTIGATES WHAT TURBINES ARE USUALLY IN IMPORTED CARS AND EXPERT RECOMMENDATIONS 2
– NJENO ĆOŠE – GUEST MILICA TOMAŠEVIĆ ACTRESS IN TOYOTA RAV 4 HYBRID
– AUTO SPORT – GUEST OF THE SHOW MILOVAN VESNIC – ANNOUNCEMENT OF THE SEASON
– FCA NEWS ARRIVED IN SERBIA
Soon completely two new sections.