It has been 2.5 years since the media last had the chance to meet AMD. Then it was in Austin, Texas, to take part in the Ryzen 4000 series of laptops with the Zen 2 architecture. A lot has happened since then. When SweClockers is now back in place, it's time to take part in AMD's next big technology leap – the Zen 4 architecture – which offers a cavalcade of news.
First up with Zen 4 is the Ryzen 7000 series "Raphael", which is perhaps the family with the most news since the journey with Zen began in the spring of 2017. First of all, AMD is stepping down to TSMC's 5 nanometers, for higher energy efficiency and performance as a result . After six years in service, socket AM4 is replaced by AM5 with more connector pins – a must as AMD now follows in Intel's footsteps with support for PCI Express 5.0 and DDR5.
Specifications: AMD Ryzen 9 7950X, 9 7900X, 7 7700X and 5 7600X
Ryzen 9 7950X

Ryzen 9 7900X

Ryzen 7 7700X

Ryzen 5 7600X

Family

Raphael

Raphael

Raphael

Raphael

Architecture

Zen 4

Zen 4

Zen 4

Zen 4

Technique

TSMC 5 nm

TSMC 5 nm

TSMC 5 nm

TSMC 5 nm

Cores

16 st.

12 st.

8 st.

6 st.

Simultaneous
Multithreading

Yes (32 threads)

Yes (24 threads)

Yes (16 threads)

Yes (12 threads)

Base frequency

4,5 GHz

4,7 GHz

4,5 GHz

4,7 GHz

Turbo frequency

5,7 GHz

5,6 GHz

5,4 GHz

5,3 GHz

L2-cache

16 × 1 MB

12 × 1 MB

8 × 1 MB

6 × 1 MB

L3-cache

64 MB

64 MB

32 MB

32 MB

Integrated graphics

Me (RDNA 2)

Me (RDNA 2)

Me (RDNA 2)

Me (RDNA 2)

Memory support

DDR5-5200

DDR5-5200

DDR5-5200

DDR5-5200

Unlocked

And

And

And

And

base

AM5

AM5

AM5

AM5

PCI Express

v5.0

v5.0

v5.0

v5.0

TDP

170 W

170 W

105 W

105 W

Price at launch

699 USD

549 USD

399 USD

299 USD

Launch

27 september

27 september

27 september

27 september
Like the Ryzen 5000 series, the new processor family is introduced with four models: One with 16 cores, one with 12, one with 8 and one with 6. At the top is the Ryzen 9 7950X with a maximum clock frequency of 5.7 GHz – a full 800 MHz over the predecessor 9 5950X – and the base frequency takes a substantial step up to 4.5 GHz, compared to the predecessor's 3.4 GHz. Similar frequency steps can also be seen with the sibling models 9 7900X, 7 7700X and 5 7600X.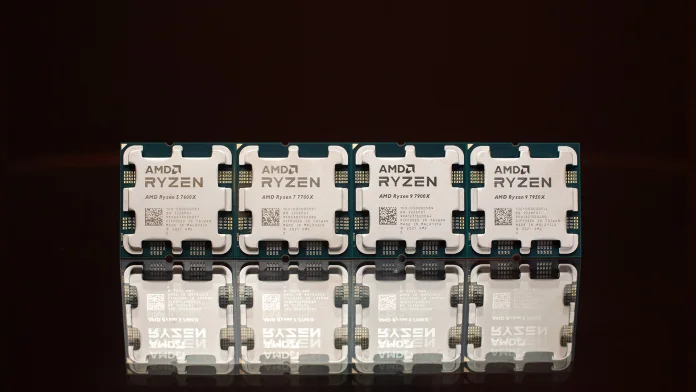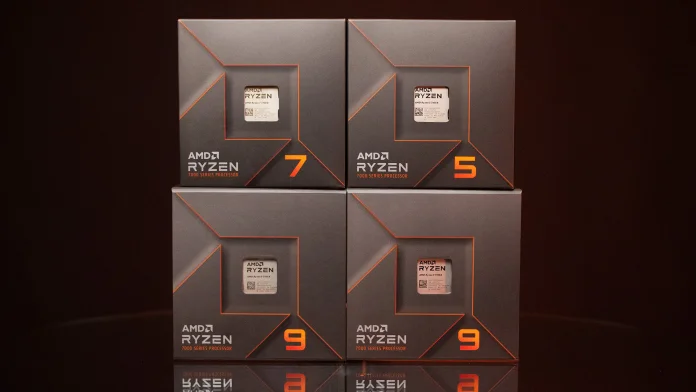 Another big news is that an integrated graphics part will become standard in all processors. At the time of writing, AMD does not share any further details, but in any case says that it will be significantly smaller than in previous processors with integrated graphics. Rumors have spoken about a single computing unit (CU) of the RDNA 2 architecture. In other words, the purpose is not to provide gaming performance worthy of the name, but to provide image to multiple high-resolution screens as well as hardware acceleration of multimedia and video calls.
New manufacturing technology and higher clock frequencies are accompanied by Zen 4 executing 13 percent more instructions per clock cycle (IPC). This is an average developed by AMD based on a wide range of applications, which means that the improvements are smaller in some scenarios and higher in others. Together with the higher clock frequencies, this means a real improvement in single-threaded performance, and here AMD is talking about an average value of 29 percent for the Ryzen 9 7950X compared to the predecessor 9 5950X.
When it comes to multi-threaded performance, AMD promises an even bigger improvement of around 40 percent. The reason for this is that AMD raised the TDP value significantly to 170 W, which in practice means that the 16- and 12-core models have more room to stretch their legs. When it comes to previous 16- and 12-core processors, they are held back by the significantly lower TDP of 105 W, which results in relatively low clock rates when all cores and execution threads are put to work.
With the Zen 4 architecture, support for the AVX-512 instruction set is added, with which it is possible to significantly increase performance in certain floating-point operations. This instruction set has been available for some years on some Intel processors. Synonymous with AVX-512 loads in Intel's processors is sky-high power consumption and really low clock frequencies when a floating-point unit with a 512-bit width is used.
Here, AMD chooses a different path, which they believe will make their implementation of AVX-512 more energy efficient while keeping clock frequencies up. Instead of making a massive floating point unit, they stay at a width of 256 bits, which are then "double-pumped". Another advantage is that the circuit area becomes smaller. An unavoidable disadvantage, however, is that the performance will not be the same as if AMD had implemented a 512-bit floating point unit, even if this had to turn down the clock frequencies to keep the power consumption in check.
To achieve an average IPC increase of 13 percent, AMD has made several improvements since Zen 3. The single biggest is a new front-end and branch predictiondevice, where the latter's job is to "guess" the next instruction to increase performance. Architecture's Load/Store is improved, the small and fast On cachememory is 50 percent larger and, for the first time since the introduction of Zen (1), the L2 cache is doubled, from 512 KB to 1 MB.
Just as important as the architecture itself is the transition to TSMC's 5-nanometer technology (N5), which is the company's fourth generation of FinFET transistors. Here, AMD talks about a deep collaboration with TSMC, a statement that is followed by given platitudes like faster, smaller, more energy efficient and higher performing transistors. Simply improvements to the three pillars that the industry is constantly chasing with new manufacturing techniques – Power, Performance, Area (PPA).
Through the new manufacturing technology is a chiplet with 8 cores and cache memory 18 percent less than those used in previous Zen 3 processors. As these are barely 84 mm² in size, a new one should be used chiplet with Zen 4 lie at around 68 mm². AMD also beats itself to the punch with a comparison against Intel's latest processor family, the Core 12000 series, with the Golden Cove architecture. A single Golden Cove core with L2 cache is 7.46 mm², almost double the 3.84 mm² of Zen 4. It should also be mentioned here that AMD uses a significantly newer and more transistor-dense manufacturing technology, which Intel will not be able to match until the end of 2023 when they introduce "Meteor Lake" made on Intel 4 technology.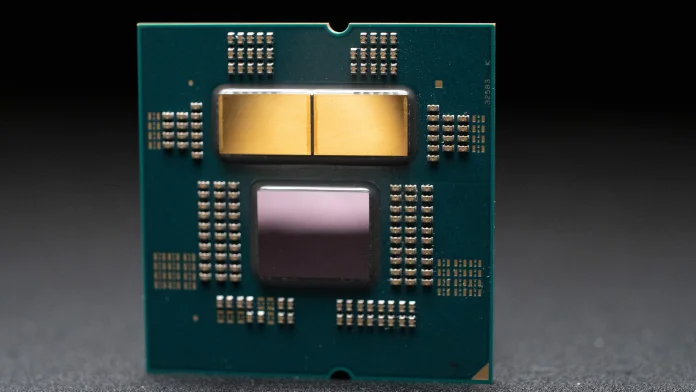 AMD's socket AM4 has been in service for six years with mostly good backwards compatibility, but has now passed its best-before date. To enable support for DDR5 and PCI Express 5.0, more contact pins are needed and the answer to this is AM5, which increases the number of pins from 1,331 to 1,718. Between the lines it is also implied that the socket is future-proofed for PCI Express 6.0.
Even if AMD is now breaking everything called backwards compatibility on the processor side, they have in any case made sure that all AM4 coolers can be used with socket AM5. Those who love compatibility across generations can rejoice that AMD plans to use socket AM5 until at least 2025, with a strong emphasis on at least. In other words, the future Zen 5 architecture will use the same socket.
With a new socket comes new control circuits and here we are dealing with four different model names. At the top are the X670 Extreme and X670, and for lower price ranges are the B650 Extreme and B650. AMD does not go into any further details about the quartet, except that the only thing that separates the Extreme variants from their siblings is support for SSD storage via PCI Express 5.0. More details are to be expected closer to launch.
On the memory side, AMD is taking the much-needed step away from DDR4, which according to the JEDEC standard tops out at an effective clock frequency of 3,200 MHz. When AMD moves to DDR5, they skip the lowest level 4800MHz and go straight to 5200MHz for official support. With the processors' 128-bit memory bus, this results in a 62.5 percent increase in bandwidth, from 51.2 to 83.2 GB/s.
Further on the memory front, AMD EXPO Technology is introduced, which is the company's answer to the Intel Extreme Memory Profile (XMP). This means that memory modules can be delivered with overclocking profiles preset from the factory. Unlike previous attempts to counter Intel's XMP, AMD believes that they have broad support from manufacturers, who in total will release 15 memory kits already on the launch day of Ryzen 7000.
The fact that AMD, unlike Intel, completely forgoes compatibility with DDR4 means a rather juicy price premium for those who want to build a computer with Ryzen 7000. Something that, however, does not contribute to larger price tags are the processors themselves, which despite rumors land at similar recommended levels as when The Ryzen 5000 series debuted. The top-of-the-line Ryzen 9 7950X is $50 cheaper than its predecessor, while matching the older models a bit easier. It remains to be seen which Swedish prices are on the menu.
However, the premium on primary memory prices is admitted by AMD, which at the same time gives a forecast about the future. By the end of the year, they expect that DDR5 will have approached DDR4 significantly in terms of price per gigabyte (GB), and that DDR5 may even be cheaper than DDR4 in the middle of 2023. This is due to memory manufacturers producing more and more DDR5 memory circuits and so slowly start to scale down the production of DDR4.
AMD does not stop at talking about Ryzen 7000 but also delivers news about things to come. On the consumer side, AMD will in the future deliver Zen 4 processors with 3D V-Cache, something many enthusiasts have been hoping for. They are also in the process of working on the next generation of processors for laptops – codenamed "Phoenix".


In the near future, AMD will also launch the server-oriented processor family "Genoa" with up to 96 cores of the Zen 4 architecture. This will be followed during the year by "Bergamo" with up to 128 cores, specially tailored for data centers operating in the "cloud". The architecture in question for Bergamo is Zen 4C which in terms of circuit area is half the size of Zen 4, but with retained functionality. This can likely be attributed to the use of high density libraries, where maximum performance (clock frequency) is sacrificed in favor of higher transistor density. The Zen 4 architecture is also to be manufactured on 4 nanometers, a refined variant of 5 nanometers, which is likely also a contributing factor to being able to shrink Zen 4 to Zen 4C.
The next major architecture is spelled Zen 5 and this will be launched in 2024. Manufacturing will take place at both 4 nanometers and 3 nanometers, where the latter means a real transition to a new manufacturing technology. Here, AMD's technical coracle Mark Papermaster talks about a "completely new" architecture, something that in reality is never the case as architectures from most companies are further developments of their predecessors. In any case, it can be interpreted as that major changes compared to Zen 4 are to be expected.


AMD offers many details with today's announcement, but leaves out even more. Anyone who wants to know more can take advantage of SweClocker's test, which is published on September 26, one day before the processors and associated motherboards reach store shelves.
---
Source: SweClockers by www.sweclockers.com.

*The article has been translated based on the content of SweClockers by www.sweclockers.com. If there is any problem regarding the content, copyright, please leave a report below the article. We will try to process as quickly as possible to protect the rights of the author. Thank you very much!

*We just want readers to access information more quickly and easily with other multilingual content, instead of information only available in a certain language.

*We always respect the copyright of the content of the author and always include the original link of the source article.If the author disagrees, just leave the report below the article, the article will be edited or deleted at the request of the author. Thanks very much! Best regards!
---