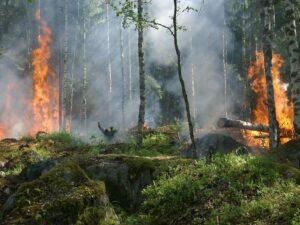 Brazilian researchers have discovered in the Amazon 2,248 fires last month – the highest number of fires recorded in June since 2007, according to the Brazilian National Space Research Institute (INPE).
Last June, INPE discovered 1,880 fires using satellite imagery.
Last year, the scale of deforestation caused by fires in the Amazon forced scientists to warn of potentially devastating effects on the global climate.
With the onset of the dry season in the Amazon, environmental experts and activists usually sound the alarm. It is assumed that this year, due to the coronavirus pandemic, the authorities did not follow this problem closer, that is, as usual, which was used by illegal cutters.
From May to June, INPE satellites registered 3,077 fires – 12.5% ​​more compared to the same period in 2019.
he Amazon rainforest experiences fires every year, but recorded the highest number of blazes for the month of June in 13 years. Most fires are started deliberately by illegal loggers and farmers wanting to clear space.
https://t.co/UJMfIIsRSp pic.twitter.com/84zQUFY6h5

— Getaway Magazine (@GetawayMagazine) July 3, 2020
Critics also accuse the government of Brazilian President Jair Bolsonar of supporting deforestation and 'logging and burning tactics' of the forest.
Bolsonaro has been criticized for doing little to protect the rainforest, as it has cut funding from the Ministry of Environmental Protection and encouraged mining and logging and other economic activities in the region.
The article AMAZON in flames: The worst forest FIRE in the last 13 years appears first on Bizlife.rs.