The world of influencers in Romania is constantly growing and transforming. And, for several years, it has become the object of study and research in our communication faculties as well. Larisa Mureșan he even did a doctoral dissertation on the subject and published the book "Influencer Marketing: the perspective of users and experts". Larisa has found a good way to combine theory with practice: she is Klain's Online Marketing Specialist, Associate Professor at UBB University & microinfluencer on Instagram.
Unlike many areas, influencer marketing "enjoys" a much more applicable theory. Much of what I delved into in theory was useful to me in practical terms. Here we no longer have that old theory we were used to, but things are a little different. The information is current and practical, relevant and contributes to an easier understanding of the concept of influencer marketing, says Larisa.
In Romania, the influencer marketing market is booming. What are the trends in the content creators segment, what prejudices surround the world of influencers and how does theory combine with practice in this field, says Laria Mureșan in the lines below.
Between numbers and creation
I followed the economic profile of the "Ana Ipătescu" high school in Gherla, where I had my first contact with marketing. I loved math at the time, and in marketing I found the perfect balance between numbers and the creative side.
I chose to deepen the field within the Faculty of Economics and Business Management, Marketing specialization. I've known since then that I've made the best choice for myself, which is why I set myself the goal of working in a marketing agency, which is what happened.
I really liked what he was doing and it suited me perfectly. I continued with a master's degree in Advertising, within the Faculty of Political, Administrative and Communication Sciences, and there I met the right people who inspired me to go further.
I also attended doctoral school at UBB, at FSPAC, where I studied the field of influencer marketing.
Beyond "academic and professional life", Larisa Mureșan is an ambitious and creative person. People around me tell me that I am the best example for the proverb "never judge a book by its cover". Behind the gentle look and all that is seen is an iron ambition and a determination that I did not think I could do either.
In everyday life, when they are not among the marketing campaigns, influencers or students, they are in dance classes or among the books. They are a combination of activities, never with free time, but always with time for what matters.
Why did you choose communication?
Although it doesn't seem true, I was very shy in high school and I was ashamed to even answer classes. In college, I got involved in student associations just to overcome this fear, and now I can say that I succeeded. I realized how important communication is, regardless of its nature, and that, in the end, it is the key that opens many doors. Communication allowed me to be creative, step out of my comfort zone and experiment.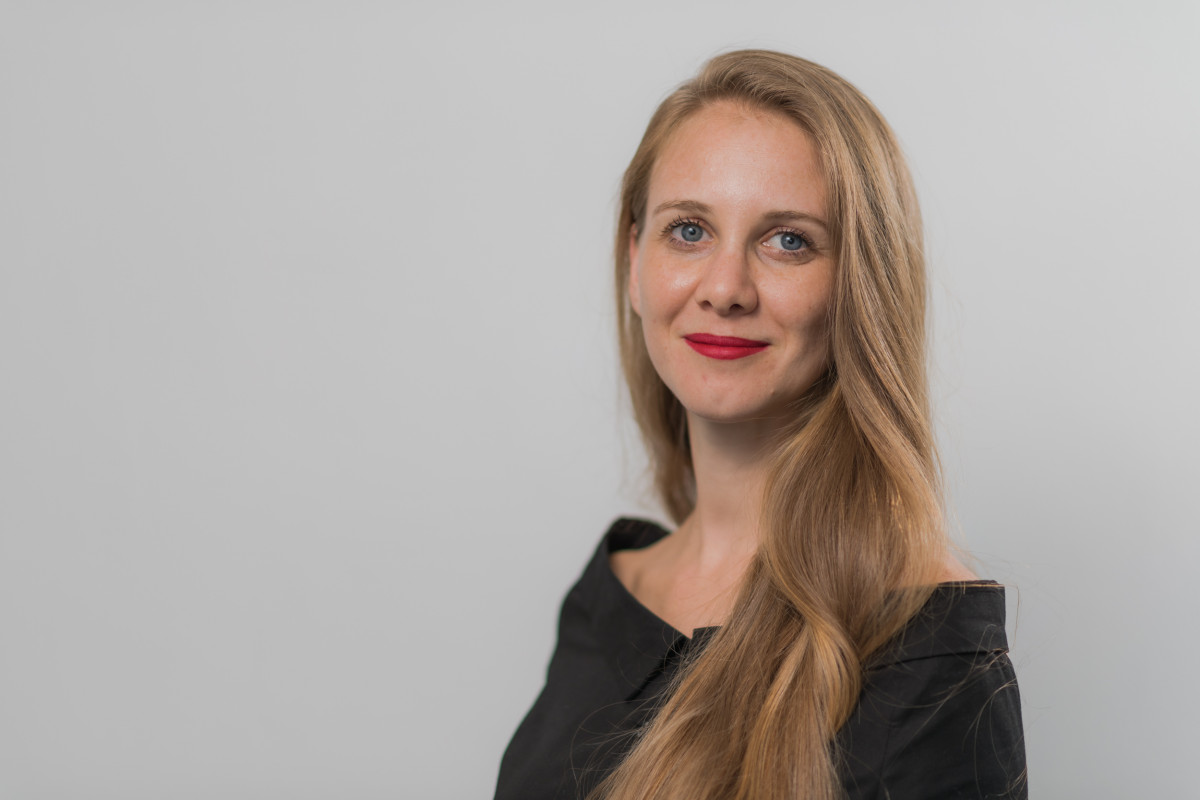 Professional career
I started with many internships, internships and a lot of involvement. I wanted to learn, to find out as much as possible and here it helped me that I am a curious person and eager to learn new things. In addition to the compulsory internships I had to do in college, I started looking for the fields that interested me and writing them to people from various companies, to learn from them.
When I was first hired, I worked for an IT company and the main disadvantage was that I didn't have a team in the marketing department. Being in the beginning, it was a little harder to get up and do the way I wanted to. Later I ended up working for the agency I am at today. I started as a junior, but I had people to learn from and I found the support I needed to evolve. After doing almost every job in the agency, I chose to specialize, and be better at what I do. I still have a lot to learn, I am aware of that, but in the end it is a continuous process.
The theme of influencers
I knew that I really wanted to take doctoral school courses, but at that time I was preoccupied with another topic. Having a discussion with my coordinating teacher, Mrs. Delia Balaban, she asked me what I knew about influencers. That's when I started looking for more information about them, who they are and what they do. What they do in our country and how they are seen by brands, users and experts in the field. That was the moment when I knew the direction of my study, respectively of my research.
doctorate
I managed to complete my doctoral studies in 3 years. Being a new field, it was opportune for me to be the first to write about it in Romania. In addition, the online environment is constantly changing and there is a risk that everything will change overnight and that the information from the beginning of the study will no longer be relevant.
The central theme of the thesis focuses on influencers. The book contains information such as who they are, what they do, how we can classify them, how important their role is in the advertising industry, how they are seen by users and specialists. In addition to the theoretical part, the study also includes an empirical research, where we conducted an experiment with users and interviewed 20 specialists who collaborate with influencers. The main purpose was to identify their perspective on marking sponsored content.
Theory and practice
Unlike many areas, influencer marketing "enjoys" a much more applicable theory. Much of what I delved into in theory was useful to me in practical terms. Here we no longer have that old theory we were used to, but things are a little different. The information is current and practical, relevant and contributes to an easier understanding of the concept of influencer marketing.
If we have a large number of followers on social networks, the theory helps us to find out which category of influencers we fall into. According to the literature, I am considered a microinfluencer because I have over 1,000 followers on instagram (@larisa.muresan).
The connotations of the term influencer
Influencers have been around for a long time, only they were known as opinion leaders. Referring to today's influencers, we initially had celebrities, basically they are the influencers we know outside of social networks, then there were online influencers, known for their online activity.
Not only has the term changed over time, but it has also taken on different connotations. Indeed, all those who exceed a certain number of followers are considered to be influencers, according to the literature.
From my point of view, influencers are content creators, who have a large number of followers, through which they can monetize their online activity. There are people exposed to the online environment, who have organic content presenting the life of the community they have created around them.
The world of influencers in Romania
Here the approach is a subjective one and I do not want to be the one to say what is good and what is bad. Instead, what I see around me in the people I follow is the fact that more and more people are starting to mark their sponsored content. Which is nice because they're so user-friendly. I rely on the idea of ​​marking sponsored content and due to the fact that it was the main idea of ​​the doctoral thesis, but also because I put myself in the consumer's shoes and realized how important it is to know if what is presented to us is advertising or organic content.
One thing I don't quite agree with is that influencers promote more brands, often even competitors. I consider it unethical towards consumers, towards the promoted brand and not even towards themselves.
Trends
I see the trends from the outside and the big agencies from outside that work with influencers and all I can say is that we will adopt and only months will pass. But even though brands now rely on the power of influencers with many followers, there will be a shift to the smallest. Micro-influencers are the ones who have fewer followers, but have a more compact, united and much more niche community, which offers better results compared to large influencers.
Misconceptions
Influencers are first and foremost human beings, and what they do online is a job. They are paid for some actions, activities, posts they do, precisely because it is part of the "job description".
I've often heard people around me think about influencers and always say that being an influencer isn't that hard. But I can contradict anything, because there is work behind every post. There are people working on the creative process, maybe there are marketing teams that create the concept behind the campaign. What most followers do not know is that behind the posts there is a communication plan, thought, prepared, confirmed, a photo / video team to highlight the influencer and much more.
Maybe not everyone has the ones listed above, or they do everything on their own, but then the work for them is even more complex.
Then there is the discussion that influencers receive everything for free, which is totally wrong. There are certain things that I receive for free, but I pay with my time.
The evolution of marketing influencer
In Romania, the influencer marketing market was estimated in 2020 at approximately 9 million euros, representing 1% of digital advertising. Since then, things have evolved and more and more companies have opted for influencer campaigns.
The trend is growing, and influencer campaigns will grow even more.
The most important changes in the digital environment in recent years
I don't think some changes are more important than others. There are simply changes that we need to adapt to.
The sudden transition of all online activities I can not say that it was one of the most important changes, but it had some advantages that we, as specialists, felt. The MarCom industry has enjoyed an increase in activity because the brands wanted to be online, present where consumers are.
In terms of academia, as a communication faculty, we adapted very quickly to the online environment and it was relatively easy to continue working in optimal conditions.
---
Source: IQads by www.iqads.ro.

*The article has been translated based on the content of IQads by www.iqads.ro. If there is any problem regarding the content, copyright, please leave a report below the article. We will try to process as quickly as possible to protect the rights of the author. Thank you very much!

*We just want readers to access information more quickly and easily with other multilingual content, instead of information only available in a certain language.

*We always respect the copyright of the content of the author and always include the original link of the source article.If the author disagrees, just leave the report below the article, the article will be edited or deleted at the request of the author. Thanks very much! Best regards!
---