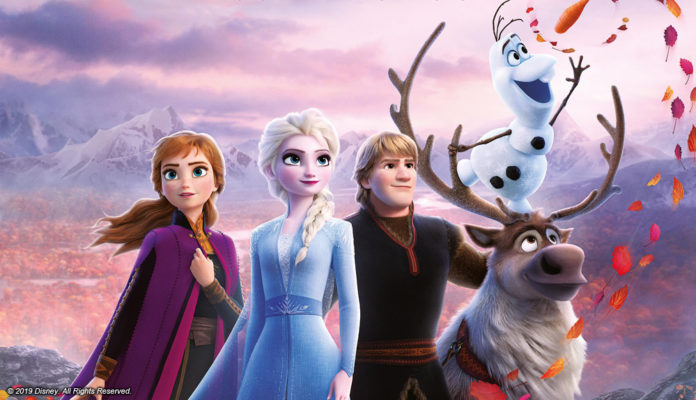 This month, Disney fans will see a lot of new films and series on the studio's own streaming platform. One of the cinema hits of the past year is included.
Tomorrow, July 3, will appear on Disney+ the film adaptation of the musical "Hamilton". According to the streaming service, it should be a mixture of live show, feature film and streaming and combine hip-hop, jazz, R&B and musical. The musical tells about the life of the American founding father Alexander Hamilton.
The biggest new release in July at Disney +, however, is the animated film "Frozen 2" be. The sequel to the cult film broke all box office records worldwide last year. In the film, the princesses Anna and Elsa have to solve the secret of their parents' death and go to an enchanted forest. The film musical will be available for streaming from July 10th.
All Marvel fans get Naschub from the series on the same day "Agents of S.H.I.E.L.D.". In the fourth and fifth season of the superhero series, Daisy Johnson is supposed to follow her own agenda as a quake amid the hostility towards the so-called Inhumans.
All other new releases at Disney + in July
CATALOG TITLE
3rd of July: DuckTales (2018, season 2), rescue on ice roads (season 1-3), worse always with Milo Murphy (season 2), animal emergency room (season 1 & 2)
17th July: Revealed: Secrets of the Sea (Season 2), Marvel Rising: Operation Shuri, Wild Chile (Season 1)
24th July: Wild Japan: Snow Monkeys, The Nutcracker and the Four Realms
July 31: On Yeti's footsteps, The Lost Civilization, Get a Horse! (Short film), Gordon Ramsay: Culinary Adventures (season 1), Conquered in flight (short film), John Henry (short film), King Fishers (season 1), Love goes through the stomach (short film), Lorenzo (short film), Rapunzel – spoiled, engaged, married (short film), The Ballad of Nessie (short film), Tick Tock Tale (short film), competition of the big cats
ORIGINAL-TITEL
3rd of July: Disney's Family Sunday – Episode 35: "Peter Pan Shadow Play", A Dog's Life with Bill Farmer – Episode 8: "Dog Movie Stars & Hounds", A Day at Disney – Episode 31: "Zama Magudulela: The Lion King, Madrid, Spain ", Marvel's Hero Project – Episode 16:" Animal Lover Genesis ", Pixar in Real Life – Episode 9:" Above: Airy Balloon Stand "
10th of July: Disney's Family Sunday – Episode 36: "Lilo & Stitch Family Tree", A Dog's Life with Bill Farmer – Episode 9: "Avalanche Rescue Dogs & Beagle Brigade", A Day at Disney – Episode 32: "Marc Smith: Story Artist", Marvel's Hero Project – Episode 17: "The Light-bringing Salvador"
17th July: SEASON FINAL -> A Dog's Life with Bill Farmer – Episode 10: "Hawaiian Conservation Dogs", Disney's Family Sunday – Episode 37: "Vaiana Photo Holder", A Day at Disney – Episode 33: "Mike Davie: Project Leader 'Imagineering'", Marvel's Hero Project – Episode 18: "The Awesome Gitanjali"
24th July: Disney's Family Sunday – Episode 38: "Jungle Book Finger Puppets", A Day at Disney – Episode 34: "Chris Cristi: Helicopter Reporter", Marvel's Hero Project – Episode 19: "Amazing Austin", Rogue Trip – Vacation Off Track ( all episodes)
July 31: SEASON FINAL -> Marvel's Hero Project – Episode 20: "The Soaring Hailey", Disney's Family Sunday – Episode 39: "Mickey and Minnie Pillows", One Day at Disney – Episode 35: "Laura Cabo: Creative Direction"