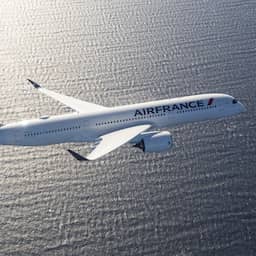 Despite state support from the French government, more than 7,500 jobs will disappear at Air France, including a thousand jobs at sister company HOP !. The airlines saw revenues drop drastically during the corona crisis.
Air France is part of the French-Dutch concern Air France-KLM and says that during the peak of the pandemic, it missed 15 million euros per day. Sales also declined by 95 percent in those days. The company does not expect air traffic to return to 2019 levels until 2024.
In total, this concerns 16 percent of all jobs at the main company Air France. The regional airline HOP! 42 percent of all jobs will be cut.
Air France hopes that the majority will disappear due to natural attrition, early retirement, voluntary departure and employees who change jobs within the company. But the company did not rule out compulsory redundancies.
The French government urges not to drop compulsory layoffs, but recognizes that Air France is in deep need. The company was recently rescued with $ 7 billion in state aid and government loans.
KLM said it would cut up to 2,000 jobs in March. The airline receives 3.4 billion euros in state aid. The aid partly consists of loans that the State guarantees.