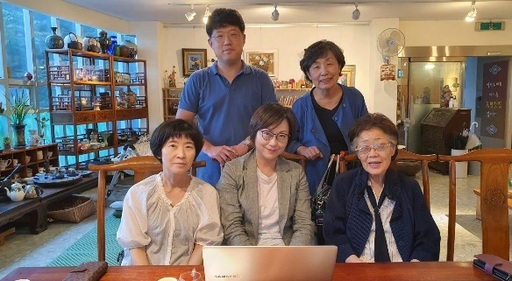 After the press conference of the Japanese military comfort women victim Lee Yong-soo (92), the grandmother met with Lee Na-young, the president of the Justice Memory Association (hereafter Jeong Yeon-yeon), and head-to-head on the direction of the movement of the comfort women victims.
According to Jeong Yeon-yeon on the 3rd, Lee and Lee met at a tea house in Nam-gu, Daegu this morning, and exchanged opinions for about 5 hours and 30 minutes.
The two of them met for the first time on the 26th of last month, after the grandmother held a press conference in May that revealed critical views on justice and demand demonstrations.
On this day, the grandmother suggested, "We support the protests, but there must be a change in the way." "Let's proceed first in Changwon and Busan, Gyeongnam and Tongyeong and Geoje, Gyeongnam, where there are regional groups," he said.
However, he said, "We will work together directly or through video to the extent that health permits."
In addition, Lee explained that she had advised Lee to continue the campaign to build the'People of Peace' and to use the terminology correctly as a victim of the Japanese comfort women.
The grandmother also said, "For the education of young generation and exchange between Korean and Japanese youth generation, it is necessary to revitalize the history education center for comfort women in each region." I have to install it."
He said, "I'm not trying to do a demo, but I'm trying to change the way."
The grandmother further advocated, "Put more girls' statues of peace everywhere and keep them."
Jeong Yeon-yeon said, "I will ponder what Grandma said and will work harder by discussing and solidifying it with local groups."
It was reported that representatives of local civic groups dealing with the comfort women issue were also present during the meeting.
Jeong Eui-yeon and her grandmother are expected to hold a joint press conference during this month to reveal more specific positions.
By Dadahun Yang, [email protected]
[ⓒ 세계일보 & Segye.com, 무단전재 및 재배포 금지]