You are the Prince who lives inside you
Whether we realize it or not, within each of us, lives a unique and eternal Prince creature, who in his own kingdom, enjoys love, wisdom, peace, beauty, joy, prosperity and many other blessings. We also call it "It is".
Outside of each of us, live our "selves", many, different, other bright and other shady ones, who are sometimes happy and sometimes unhappy, who are desperately looking to find their own "Promised Land", often – in this endeavor. – they lose their way, find him again, return, start all over again, etc. etc.
"It is", our Prince, always tries to speak to the "I", to advise them and to transmit them by his own grace, love and wisdom, to help them reach their "home", but he cannot do it without their consent.
So he tries and waits for the right time to come, when the "I" will now be ready to perceive his presence, to listen to him and to walk the path that will point them to them and that will lead them to their final destination.
"The Diary of a Prince" is a book written when some "I" was now ready to "converse" with "It's", the Prince. This is a collection of internal dialogues, which according to the author of the work, Erotokritos Kymioni, took place between his "Being" and his "I".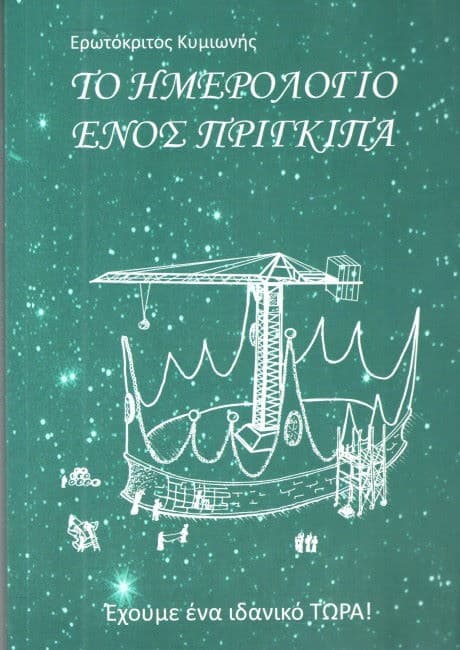 The book is a wise teacher who will help us find our own path to self-knowledge. Knowing ourselves and our potential, we will reach that level of maturity, where responsibility develops and the reasons for everything are sought within us and not somewhere outside of us.
It will show us the way to get rid of separation and selfishness, which produce negative thoughts and feelings and encourage us to incorporate into ourselves the higher qualities of love, empathy, kindness and offering that give meaning to life. and our existence.
It will help us to see life in a different way, with more optimism, joy and positivity. No, because we will choose to see only its positive and beautiful sides, but because we will realize that even the most difficult and painful aspects of life hide within them valuable opportunities that enable us to become better people.
It will also help us to let go of guilt, doubt, anger, fear and all our mental burdens and change what does not satisfy us in ourselves and our lives and dare to become what we want to be. to be. And one last thing, dear reader.
Smile!
Smile at life!
Smile in your mirror as soon as you wake up!
Smile at the Sun!
Smile in the rain!
To smile in pain, in complaint.
To smile in injustice, to smile in sorrow, to smile in anger.
Smile where everyone expects you not to.
To smile in envy, in criticism.
To smile at "death", to smile at your mistakes, to smile at those you love!
To smile at those who love you. Smile at those who don't love you!
Smile with your soul and heart!
Your smile is a panacea for yourself!
---
You can find the book in Ianos and in Public
More information about Erotokritos Kimionis
Erotokritos Kimionis has been involved in the fabric trade and is one of the leading Greek Men's Fashion Designers. The loss of his son, Manolis, at the age of 11 from a rare form of leukemia led him to write the book "The Diary of a Prince", which describes the story of Manolis, the creation of the Children's Support Organization with rare autoimmune diseases, entitled "Manoli Together We Can" and in the creation of the School of Self-Love where seminars and sessions of self-knowledge and meditation are held without any fee. Erotokritos has been trained in many systems but his seminars specialize in achieving goals and managing human loss.