How aware are you of the tendency to expect certain outcomes of certain situations, certain behaviors from certain people, reactions, sentences that others should say, the time when they should say them?
At this moment, how aware are you of the extent to which you have such and similar expectations in relation to yourself?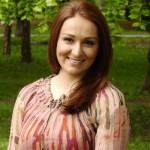 The difference is in how many such moments we have become aware of in our life, found a reason and purpose for their existence, overcome them, overcome them and let them go. Yes, expectations, like many other things that we don't like, that are present in us and in our lives, have their reason for existence, their background and their purpose for our further growth.
Expectations are those moments when you feel that something should be the way it is not at this moment. And not only do you consider it, but you also look for it or demand it. As long as you are ready to suffer for it. So, energetically, i.e. with your attention, you are in something that is not happening.
Dissatisfaction stems from our opinion that we didn't get what we needed. And in fact, what we got is exactly what we need. However, we are not ready to see it that way.
Why? Because it contains a message for us. Something that will reveal some other truth about us, push us to change, and changes are not very popular in the lulled part of the human psyche, which easily occupies our biggest space, because it's nice to be lulled.
You can see examples of expectations at every step. Those are the sentences and thoughts that start with "Shouldn't it be so and so..?", "Isn't it normal for you that he/she is so and so..?", "What's ok about that?" that someone does this and that..?", "That's not how it's done.", "It shouldn't have turned out like this..", and so on.
So you are of the opinion that it should be different than what it is. It certainly doesn't sound bad, in fact, it's constructive. If you notice something, you don't like it, you don't agree with it, you want it to be different, great! Change it. Take all the desired steps that will lead to that change.
Let me emphasize, you do! In your sentences, in what is said, in what is not said, in behavior, in feelings, in tendencies.
If you force, demand, and on top of all that you get angry at others for not doing the same, you fall into the zone called expectations. So, to dissatisfaction, until exhaustion.
If it seems to you or you are of the opinion that you also have it over another, it is only because that other has allowed you to do so. So again, his power of what affects him is within him. Whether he was aware of it or not.
Let's go back to when you change something you don't like. Sooner or later you will face a limitation called Someone doesn't want what you want. He doesn't think like you, he doesn't have experience like you, he can't do the same as you, he doesn't know the same as you, or simply, he won't do the same as you and just when you want.
This is where our need to change something collides with someone else's reality, which now becomes ours, whether we like it or not. How do we get to the point where we are destabilized by the fact that someone is not doing something or the situation is not unfolding the way we would like it to? Well, first of all, we care! It will be that what we are looking for is very important to us. The key is that we haven't realized that the only thing we can do is what we can do, not what someone else will do and decide.
When, therefore, something is very important to us, and we really care about it, and it does not happen, even though it seems to us that it is completely logical that it should happen, it is because that non-happening contains a much greater wisdom for us alone.
Let's take an example!
You went out of your way to get a promotion at your job. But you did everything that was necessary to meet the conditions. You didn't get that spot. Someone else got it, and you expected it, because…well, it was logical after all that investment. You start with a feeling of injustice, anger, you feel frustrated. You list all those possible logical reasons why it should have turned out differently and not the way it did. Your expectation was not met.
When someone listens to you, you are absolutely right. The problem is that you started only from your own logic. Never mind that maybe most people will agree with your logic. It is yours at that moment and does not necessarily mean the same with the logic of the person you are negotiating with or with the situation.
A similar example is when you like someone. You're in a relationship. You invested emotions, time. After a while, that person doesn't respond to you the way you think they should. As it were, it gives some inadequate answer to what you have given. The feeling is the same. From disbelief, through anger, to disappointment. Because you had your own logic and setting of how things should look in a relationship between two people who like each other.
When the surprise wears off and the emotions subside, think for a moment. Have you noticed that with the previous situation, life just taught you that the world is as much an "illogical" as a "logical" place?
Don't you think it is good to know that it exists, that it is possible, and that both will happen to you, but that you are limited to only one? Only to what is "logical", comprehensible, "normal" and predictable for you. So how would you learn anything new about yourself and others if that were the case? Isn't it easier to be prepared for various things, rather than just something? How much more protected you are then!
Let's not talk about the factor of boredom and uninteresting life if it's like that, only once and it's painted in my color. How would you have learned that you are actually quite brave in the face of failures and successes if there were not those who did not give you everything on a plate and exactly as you expected? How would you strengthen perseverance, determination and self-love if you always got it from others, and you never had to realize that you yourself possess all of these things?
That's why I repeat that the situation is happening exactly as it should. Because there is something in it for you!
When the anger subsides, sit and think about it. You will find out a lot about yourself. Most of all, the situation that just happened to you was more than necessary to make you aware, strengthen or put in the foreground another part of yourself that you may have neglected. Like, for example, how important it is to appreciate yourself when others don't show it to you. Then, to love yourself when others don't love you the way you do. To hear yourself when others do not. To fall in love with yourself when others won't. Because think about it, it's too, really too easy for others to give us all that all the time. And those from whom we expect it.
So how can I realize that I also have the same capacity for valuing, loving, respecting myself and then others; for falling in love, giving, taking, as well as those from whom I expect it?
You will admit, there is no other way, except for someone to put me in that situation.
Well, now, why does he put me in that situation like that, i.e. by not giving me, depriving me and not fulfilling my expectations? Well, because that part of me is not active, it is not sanctified.
I need someone to encourage it, to initiate it. Let's say, the part in us that is called is not active Give yourself love and attention. Of course, then we will gain people in our lives who deny us the same. Then we get annoyed to say the least.
That's the first lesson you need to learn about expectations. To learn what they tell you about yourself and what you want to give yourself and compensate.
Below are those asanas that, by their very nature, encourage greater confidence in oneself, encourage courage in oneself, change perspective, turn to oneself and one's needs.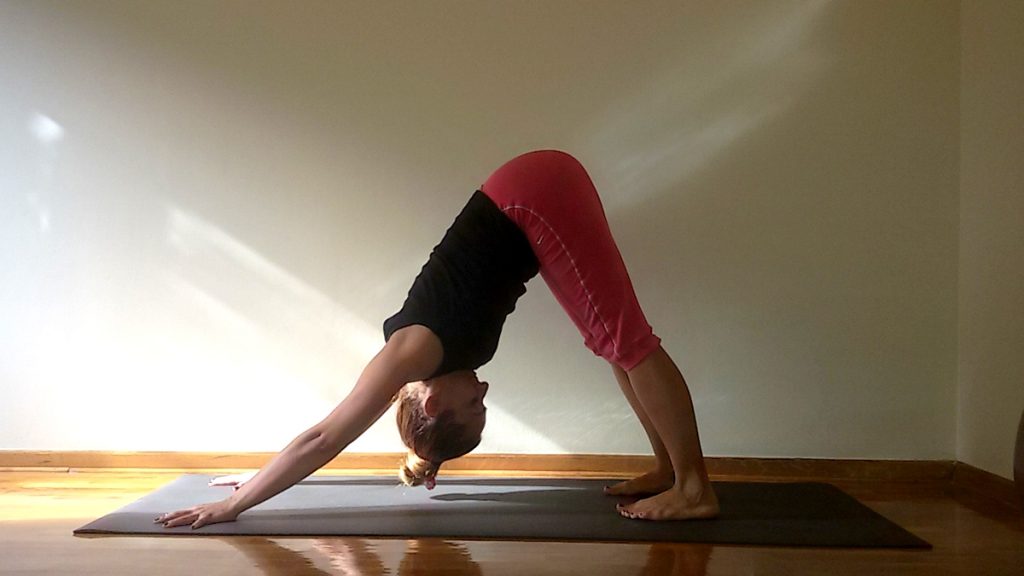 Start from a kneeling position, resting on your hands. Knees and feet are hip-width apart. Raise the seat part and push off the floor with your fists, so that your chest comes closer to your knees. The heels do not have to lie on the floor. Direct your gaze to your knees or navel to straighten your neck.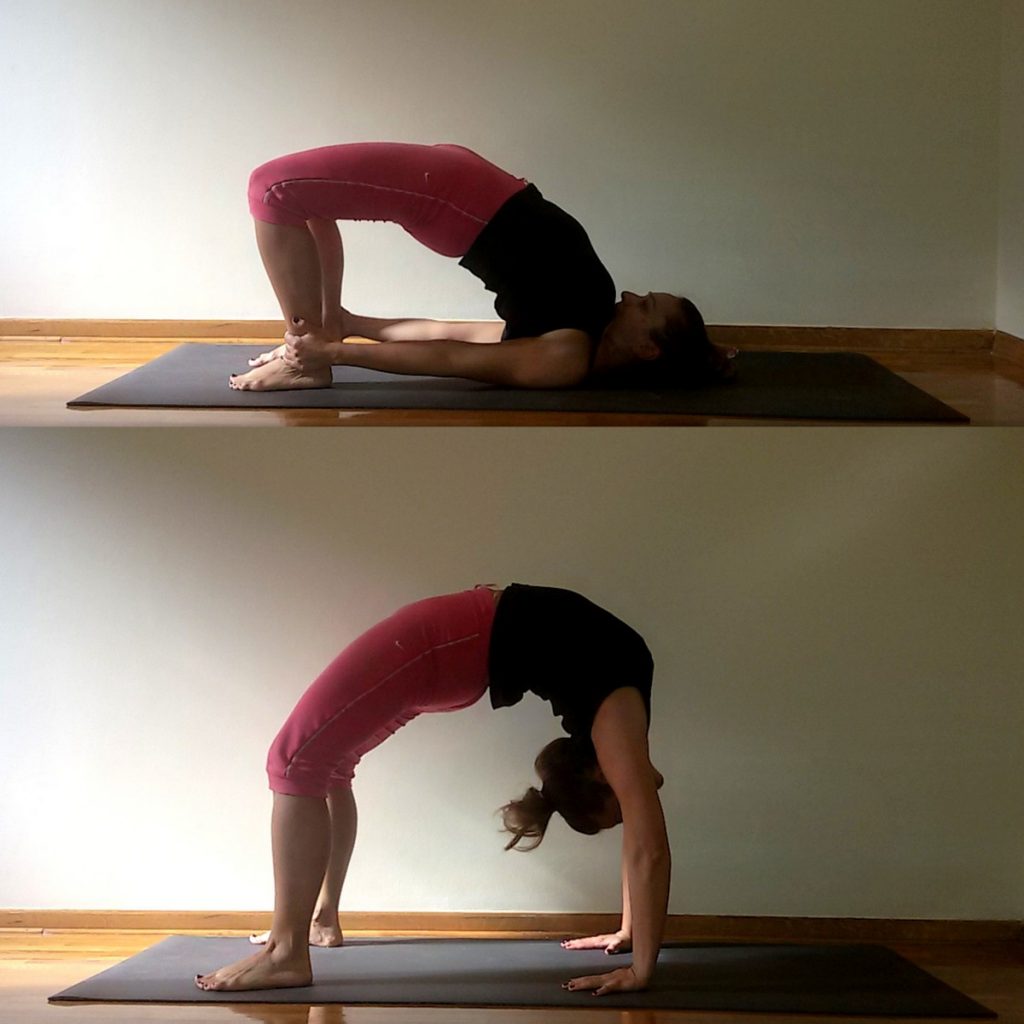 Lying on your back, pull your heels toward your buttocks; you can reach the ankle joints with your hands or in an easier way – just place your hands under your back on the floor, elbows straight and palms together. Move the saddle area and keep your feet and knees hip-width apart. For the so-called large bridge, it is necessary to place the hands under the shoulders from this position of the small bridge, go to the top of the head, and then keep support only on the hands and feet. When returning, lower the head first to the floor.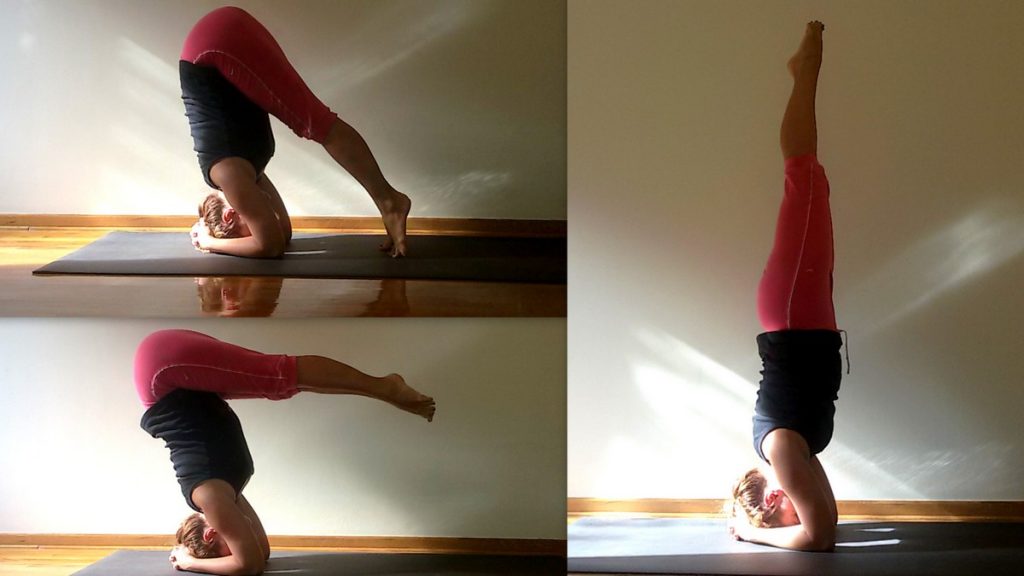 Perform this asana only as a more experienced practitioner. It is safest to face the wall, which can later serve as a footrest. Kneel down. Interlace your fingers and spread your palms. Place your forearms on the floor (there will be support) so that your elbows are shoulder width apart. Place the top of your head on the ground, exactly in the space between your palms that you made, so that your palms are in contact with the back of your head. It is quite enough to get up from your knees and walk slowly with your feet towards your face. The depth of approach depends on comfort. The saddle part thus goes towards the ceiling, and the back is straightened. Feel the support on the scalp, on the forearms and in the shoulders.
For a beginner, this is more than enough. Do not jump into the kicking position until you have good support in your arms and back, and until you have a wall behind you.
Handstands: There are several ways to encourage yourself to do a handstand. For slightly braver and more advanced practitioners, turn in the opposite direction to the wall, so that you bring your hands closer to the wall. Throw one leg at a time towards the wall, until you find support with your feet.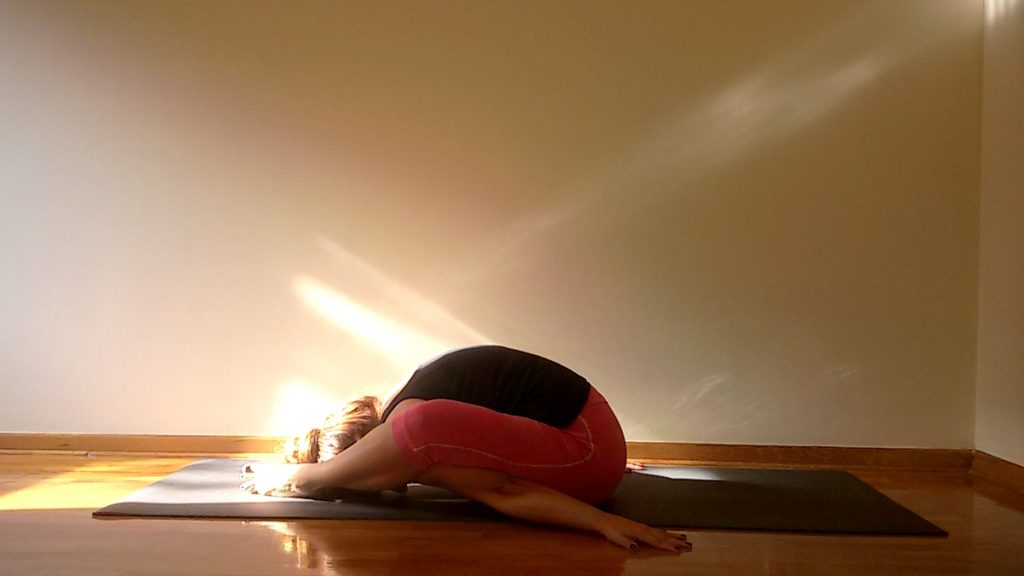 From a seated position, place your feet in front of you so that the soles of your feet are together. Move your feet away from your pelvis, so that your legs and pelvis form a circle. When folding forward, the head should have room to descend towards the floor without landing on the feet. Put your hands under your shins, so that you grasp your feet (the front side of your feet) with your fists, or extend them behind you.
---
Source: Sito&Rešeto by www.sitoireseto.com.

*The article has been translated based on the content of Sito&Rešeto by www.sitoireseto.com. If there is any problem regarding the content, copyright, please leave a report below the article. We will try to process as quickly as possible to protect the rights of the author. Thank you very much!

*We just want readers to access information more quickly and easily with other multilingual content, instead of information only available in a certain language.

*We always respect the copyright of the content of the author and always include the original link of the source article.If the author disagrees, just leave the report below the article, the article will be edited or deleted at the request of the author. Thanks very much! Best regards!
---