At the Gymnasium School Nr. 1 The cave in Constanța, the students were told about how they have all the necessary tools to become the future Elon Musk or Vitalik Buterin, and the initiative of the teacher Eduard Alin Grosu he showed them that they were not just words in the wind. It was his passion for technology that led Eduard to the realm of NFT that he began exploring 4 years ago. He saw the immense potential it has and proposed a project that would focus students' creativity and familiarize them with a field that is constantly evolving. That's where it started Small Giantsthe project that digitized the drawings created by the students and turned them into NFTs that have already started to sell and gather the appreciation of parents, teachers and people in the field.
We learned a lot about our students through this project, what talents they have, what imagination they have, what plans they have, how attracted they are to technology, how well they understand money and how attracted they are to this subject, how good they are and what he would do if he had the power of the rich. We have a lot of information that we would not have had without this project, even if no NFT had been sold, we would have gained much more, one would think.
When you give students a chance to express themselves freely and leave their mark, you discover things that would otherwise have been overlooked. This is what Eduard understood thanks to this project and he is happy when he sees that other schools are also showing interest in better understanding the field and making their students' voices heard. Because, as he says, even if no NFT is sold, the gain of discovering who your students are beyond the bench they sit in is the greatest achievement. About the need of the Romanian school to adapt to the times we live in, what the implementation of the project meant and its evolution, I talked more with Eduard in the following.
How did you get into teaching?
My passion is technology, since I was a child I liked to unpack everything I caught to the last piece to see how it works; technology is part of our lives and I think it is important to understand it, this skill is a necessity. I graduated from Ovid's Faculty of Mathematics and Computer Science in 2019 and then I started working in education, the theory was different from practice, not everything was as I thought it was, I learned a lot, I saw how education works and I can say that we have a lot to change at the national level … However, I have witnessed many good changes in my school, I am proud of the community. I would like to leave a bigger and better imprint on me. That's why I probably chose to pass on my students' knowledge and passion for technology.
The biggest challenges for a teacher
My opinion is that we are beginning to feel the consequences of wrong decisions in the past, the more we use the word "let it go like this", the more we neglect education, the worse we will be, I have the impression that people who I don't understand that many problems can be solved from here, through education. I talked in general, as for me, the salary does not satisfy me at all, I work other jobs so as not to have to give up classes, because I like what I do, the greatest satisfaction is that I know that I leave my mark on the world. an honorable way, I know how much my teachers have meant to me, I hope I mean the same to my students, and of course when I hear "Mr. Professor, you are my favorite teacher" it's like life is getting more beautiful.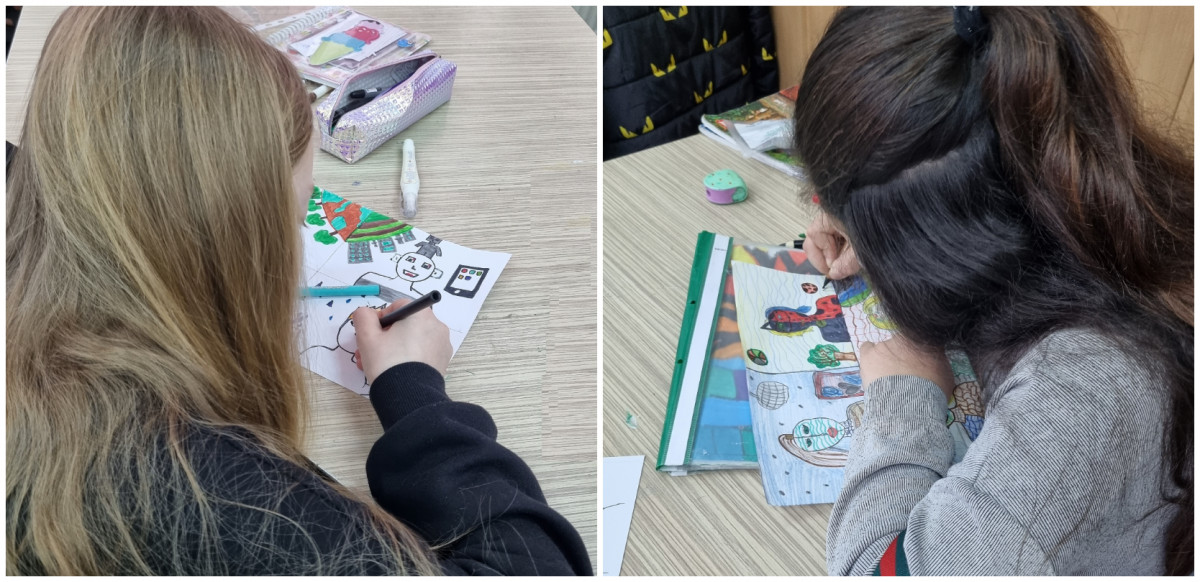 The story of the #SmallGiants project
I have been following Blockchain technology and NFTs for more than 4 years and I have noticed that with the pandemic, people's passion for this technology has increased. I saw that they are being sold with very large sums, I saw that projects are being created that have good goals and in January 2022 I said that we should also experiment with this, with students, through education, with drawings, to do something that, from as far as I know, it hasn't been done before.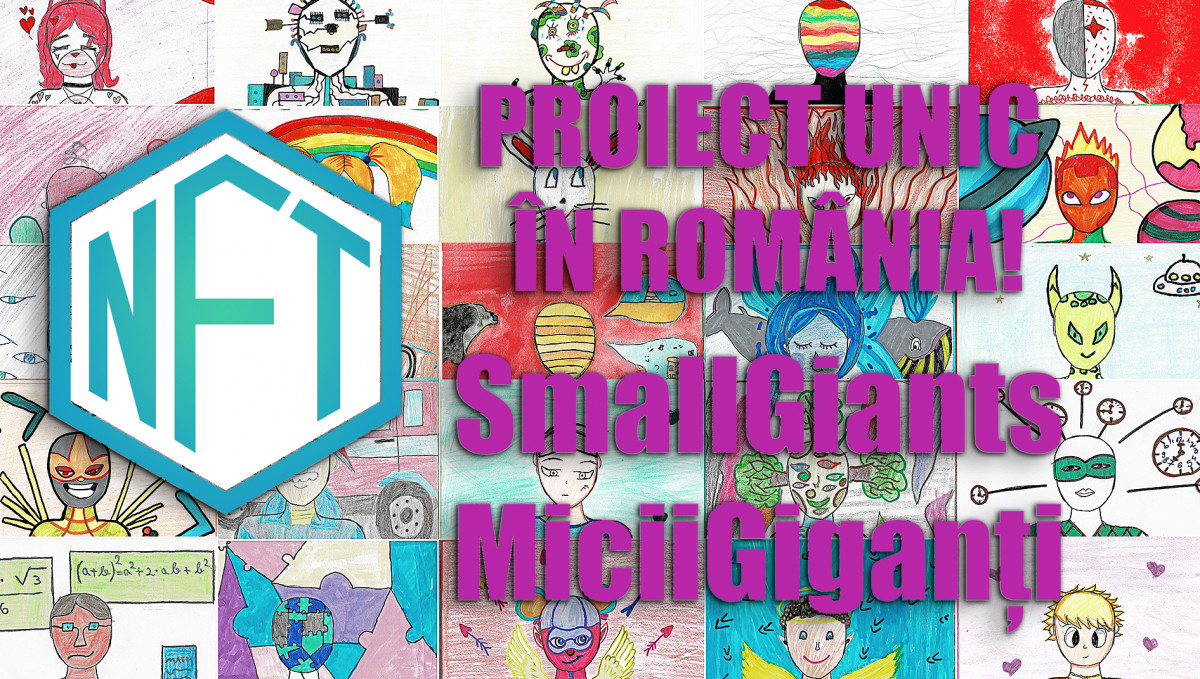 The implementation process
The first stage was the one in which we organized the details and documents at school level, the 2nd stage in which the students drew, a process that helped to develop creativity / imagination, stage 3 of digitizing drawings, stage 4 of transformation into NFTs , in parallel I explained to all students what each process means, stage 5 of advertising, the stage in which we make the project public and attract investors, followed by stage 6 of completing the project with a Cryptomoneda (which I am working on now), stage 7 of implementation of cryptocurrency in the classes and involvement of investors, stage 8 creation of the council that decides what we do with the funds raised in order to increase the quality of education. We are optimistic.
How do you explain the concepts to the students
Simplifying a lot and associating with things they already know, for example Blockchain technology being the "foundation" comes to replace the classic ways of recording data, Cryptocurrencies and NFTs are some data that are recorded there, Crypto = financial data, NFTs = certificates of authenticity & ownership for goods (digital or physical). Of course, for hours I used clear examples for each explanation, for the blockchain I wrote with a pen on a piece of paper and I noticed the weaknesses of the classic way of recording data, for Crypto we talked about money in the bank and for NFTs we talked about property deeds for house, car or even birth certificates. They were caught up in the subject, and I told them that they have a huge advantage in front of everyone, more precisely time, if they learn they can become future Elon Musk or Vitalik Buterin, they have all the necessary tools.

This is where all the students started, from 0 as in life
How the students got the idea
Like me, at first it seemed like they couldn't believe it and then they were very excited! Now 55 NFTs are sold and they refresh the page to see if their drawing appears there, they want us to do more, some want to do their own personal projects and I am proud of them and they have all my support!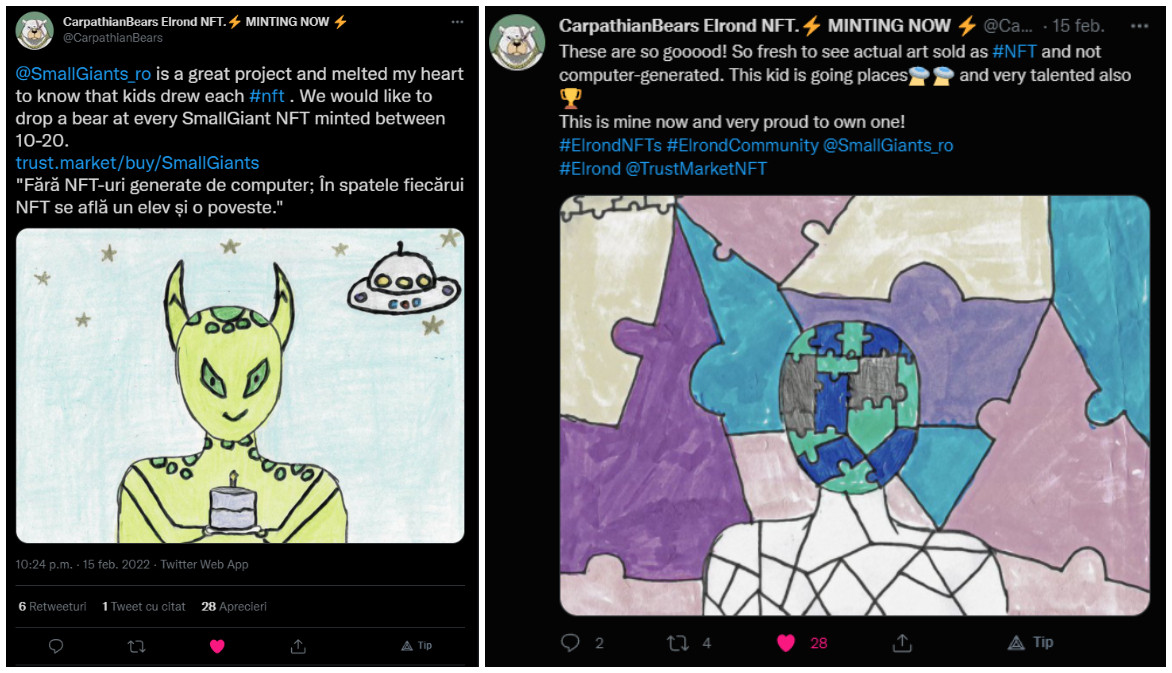 What do you find out about students when you give them a platform to express themselves
We learned a lot about our students through this project, what talents they have, what imagination they have, what plans they have, how attracted they are to technology, how well they understand money and how attracted they are to this subject, how good they are and what he would do if he had the power of the rich. We have a lot of information that we would not have had without this project, even if no NFT had been sold, we would have gained much more, one would think.

People's reactions
I received a lot of messages of support from both students and parents / teachers across the country, I was called to explain how to buy NFTs, I explained to each one, I appeared on the news on many channels and I think there are a few other schools that are already working on similar projects. I want to develop Small Giants more. I want to share my knowledge with other teachers and implement something similar or receive them in the project. Overall the impact was huge with good feedback as well!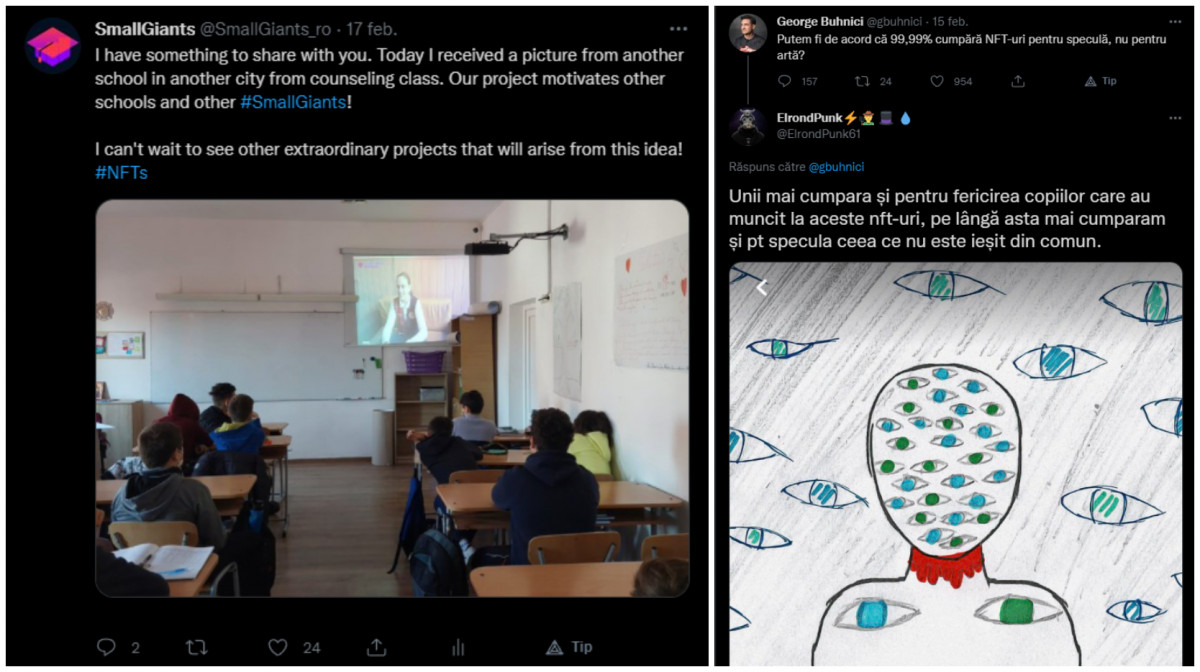 Preparing students for the future through such projects
I will tell you what I tell them, if we know all the options, if we understand them, we can know what we want to do in life. Having a limited time in life, I believe that a goal of the school should be the "playground" for "experimentation" for students, the place where they are presented with all the options in life and discover what they like to do, and will specialize. in that field, whatever it is. This results in happy and capable adults.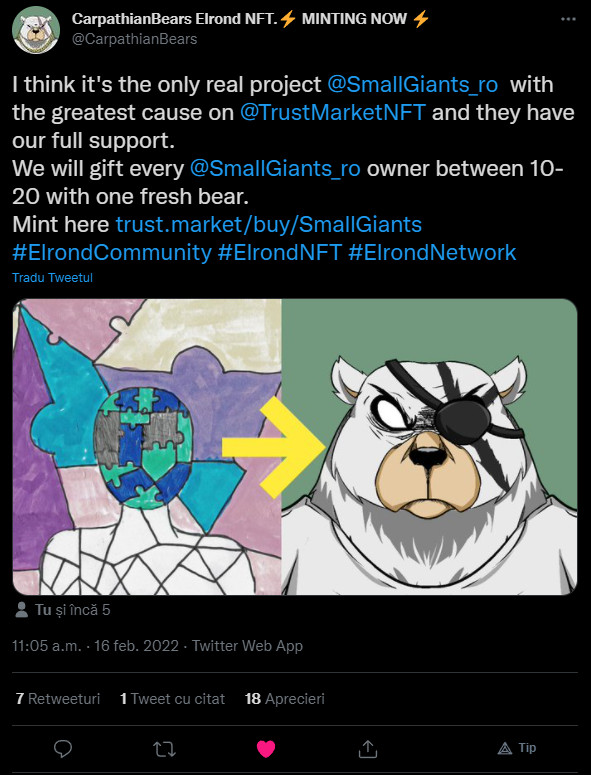 What needs to be improved in the Romanian education system
10. The mere fact that I feel annoyed by some people saying what I am going to say underscores the fact that we have a problem. We have always believed that education is the long-term solution to all our problems. As long as no serious money is invested in education and in reforming the Romanian education system, the problems will get worse, all the problems. If we keep it that way, we regress instead of evolving. I'm not able to give an exact answer that could change everything, but I'm sure there are a few people up there who could do that.
I can quote Pera Novacovici, with whom I strongly agree in the following text: "It is clear to me that no one on this earth can succeed in what he does alone. Even if one of us is rich, healthy, happy, with a family full of love and friends and success, what will that man do if he leaves his home in a world full of poverty, disease, suffering, violence and depression? Success cannot exist without the whole world being a place where we can live together in prosperity, harmony and happiness. "
The need for innovation in the Romanian school
It is said that Romania is 50 years old. I don't think that's being said in vain. However, I think that lately we have also pressed the accelerator, but not uniformly in all areas. I think that someone with power must come, with an open mind, who can rethink the whole system, we need a major change in Romania's education, we should wake up once and take the more developed countries as an example, if we are not able to create something better, from scratch, at least to copy from them, even a well-implemented copy would give better results than the current education system.
Thanks.
---
Source: IQads by www.iqads.ro.

*The article has been translated based on the content of IQads by www.iqads.ro. If there is any problem regarding the content, copyright, please leave a report below the article. We will try to process as quickly as possible to protect the rights of the author. Thank you very much!

*We just want readers to access information more quickly and easily with other multilingual content, instead of information only available in a certain language.

*We always respect the copyright of the content of the author and always include the original link of the source article.If the author disagrees, just leave the report below the article, the article will be edited or deleted at the request of the author. Thanks very much! Best regards!
---