With every new version iPadOS Apple tablets are starting to transform into powerful gaming devices. As early as last spring, iOS 13.4 introduced normal mouse and trackpad support, and Cupertinos added enhanced capabilities for a button input to the Magic Keyboard release.
So in third-party games and applications, developers were able to fully use the control using buttons and a manipulator. Over the past six months, a couple of dozen games with this feature have already appeared in the App Store. Now let's look at the most interesting projects.
1. Soul Knight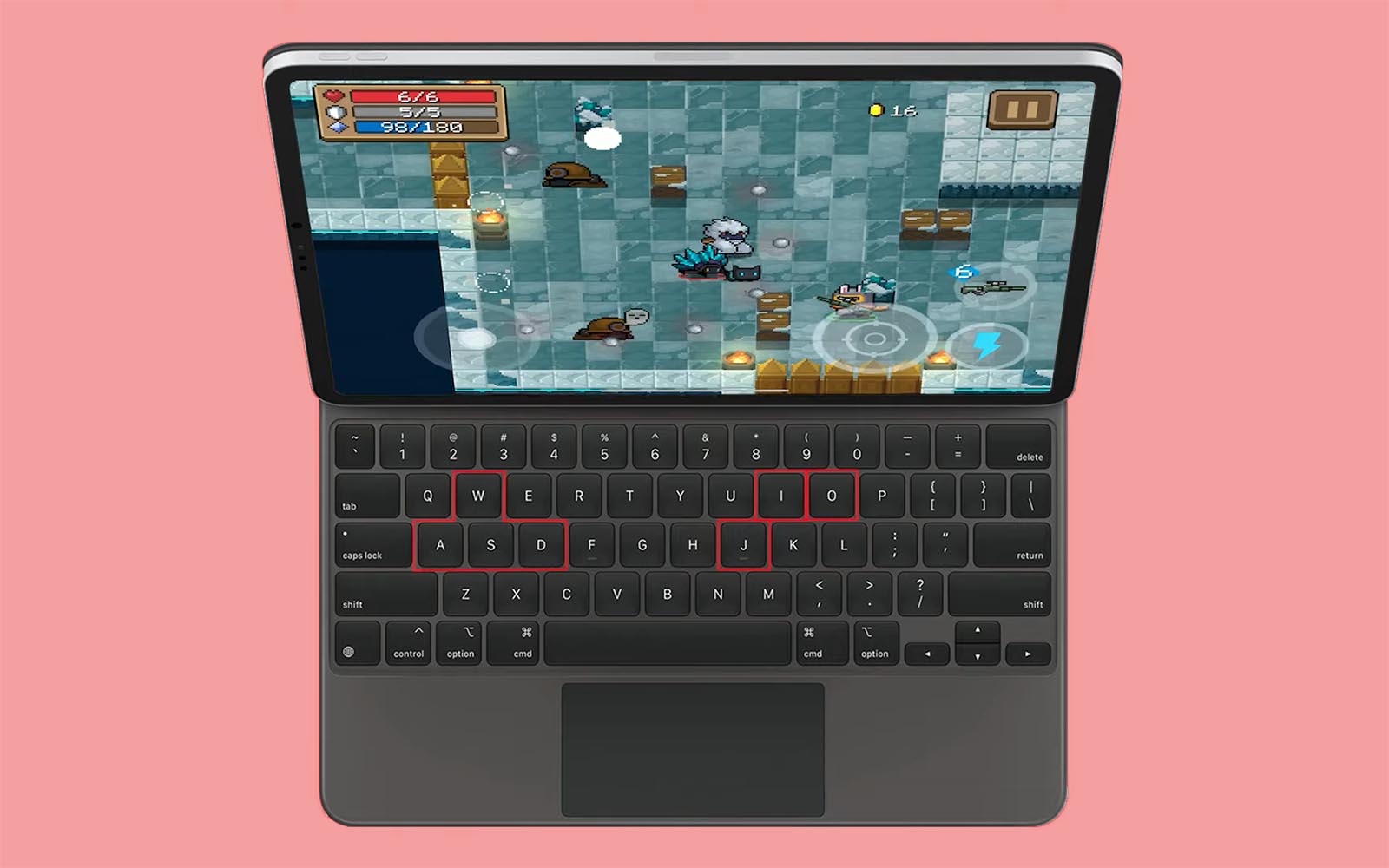 Genre: action
Developer: Zeyang Li
In-app purchases: Yes
A simple and uncomplicated shooter game without much meaning and plot. We just move through the labyrinths and crush the crowds of enemies. A block familiar from computer games is used for control BATCH and three separate keys for shooting and using character abilities.
Unfortunately, control using buttons is only possible during gameplay. Navigating the menu and changing parameters will have to be done using the touch screen. In addition, the touch keys are not hidden when the keyboard is connected. We hope the developers will fix this in future updates.
Price: is free
2. Pascal's Wager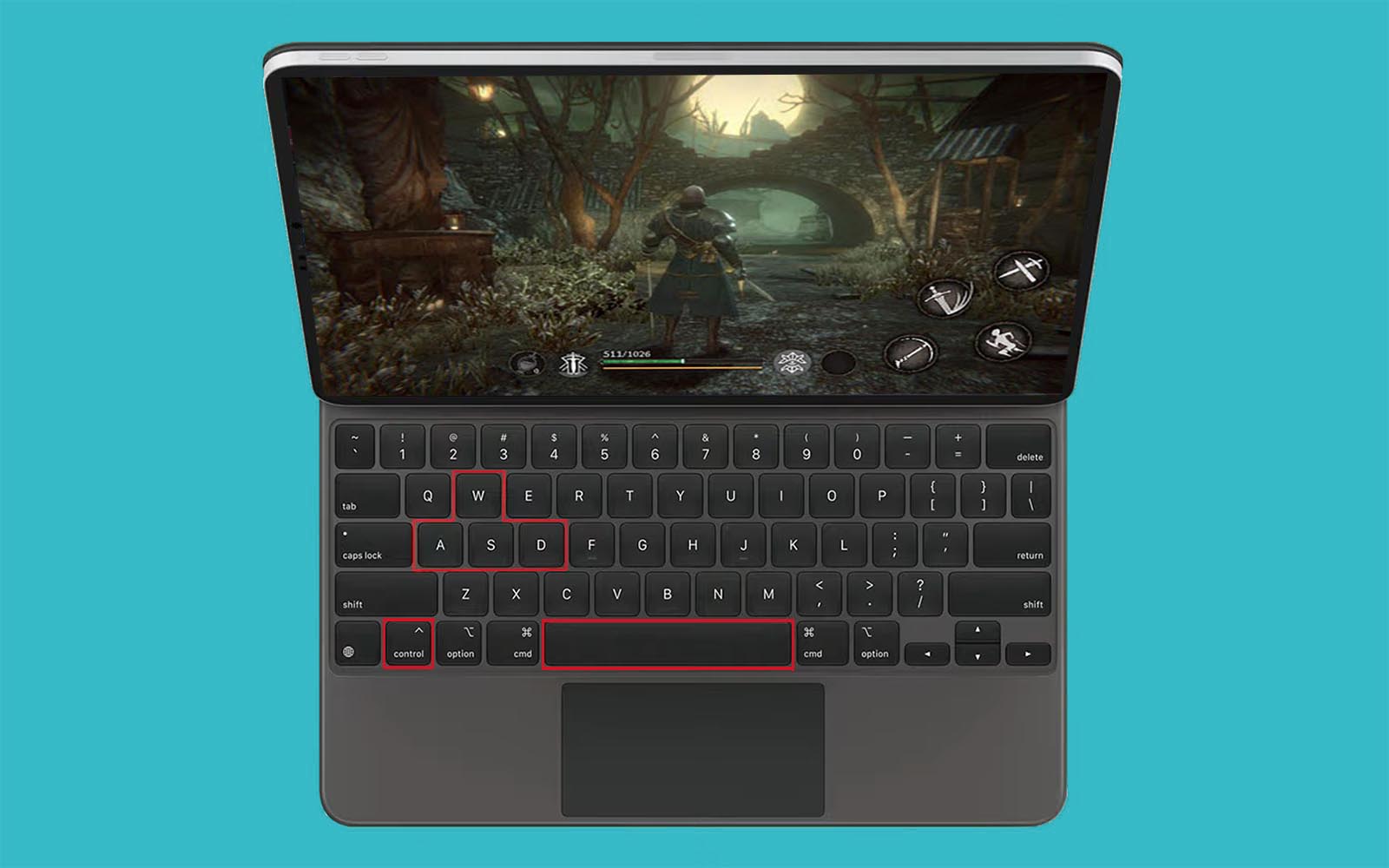 Genre: third-person action RPG
Developer: Epic Dark Fantasy ARPG
There are in-app purchases: Yes
The application can be safely considered the Witcher at minimum salaries. A very solid action project for a mobile platform.
You can choose from one of four characters of different classes with unique abilities, and then everything is according to the classics: we kill monsters, communicate with NPCs, level up and complete story missions.
This is the first App Store game to officially announce mouse support. Here it is not just the ability to move the cursor with a manipulator, but a full-fledged adaptation of the gameplay to this way of control. There is a possibility of adjusting the sensitivity and inversion of the axes. In the future, we hope to be able to remap the keys.
You can control the hero using the block BATCH, Space used for jumping, CTRL for the block, and the mouse is responsible for strokes and direction of movement.
Anyone with an iPad with a keyboard should definitely play Pascal's Wager!
Price: 449 r
3. Lego Builders Journey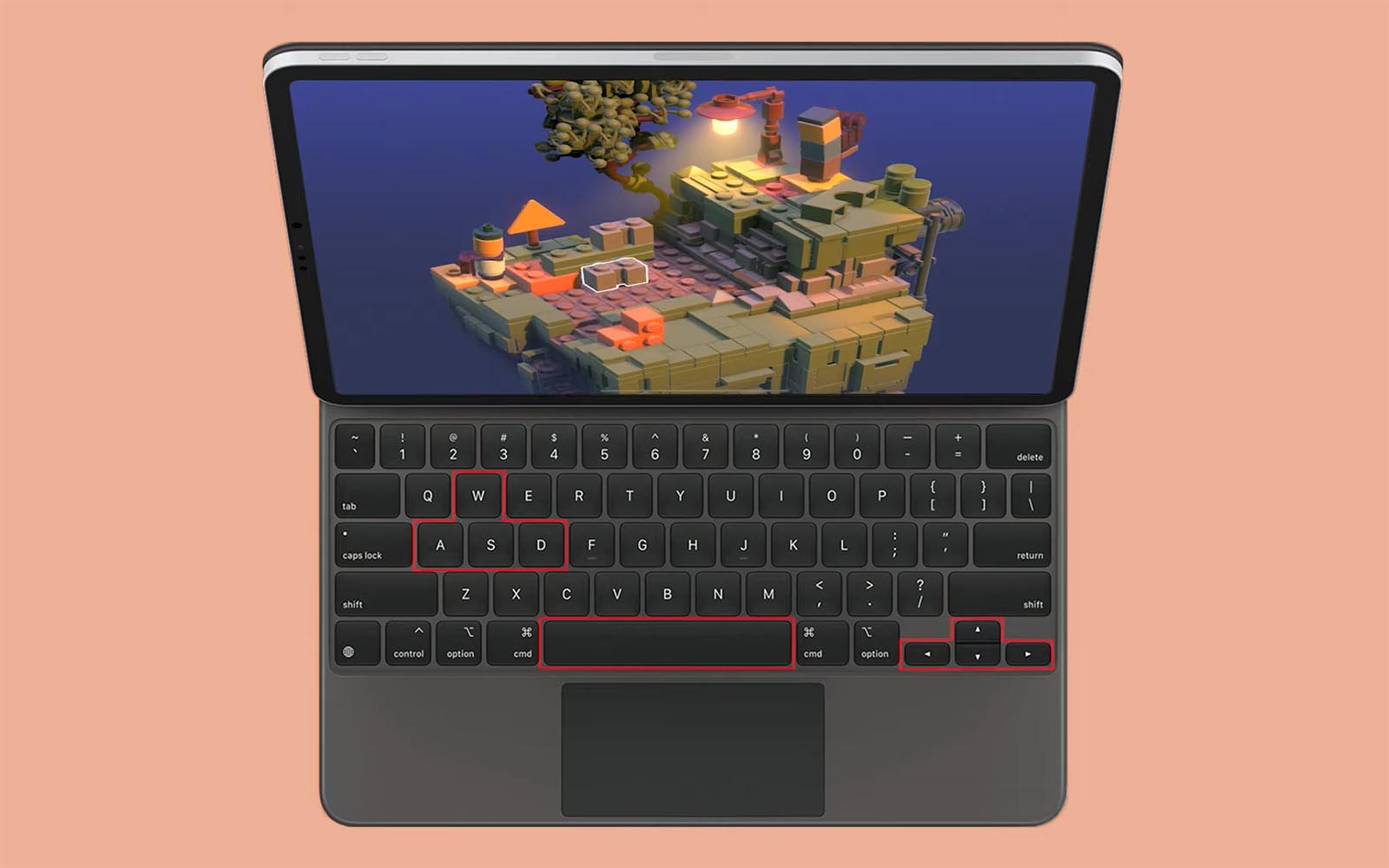 Genre: puzzle
Developer: LEGO
In-app purchases: not
One of the few high-quality and well-developed games in the Apple Arcade service, the plot of which is the world's most popular construction set. The meditation puzzle allows you to collect different buildings and structures level by level.
Nice animation, relaxed gameplay and the opportunity to spy on tricky techniques for connecting LEGO parts will impress all fans of the constructor.
Controls are conveniently distributed between two hands: WSAD block for moving parts, arrows for their choice, and space to take action.
Price: available at Apple Arcade
4. XCOM 2 Collectio‪n‬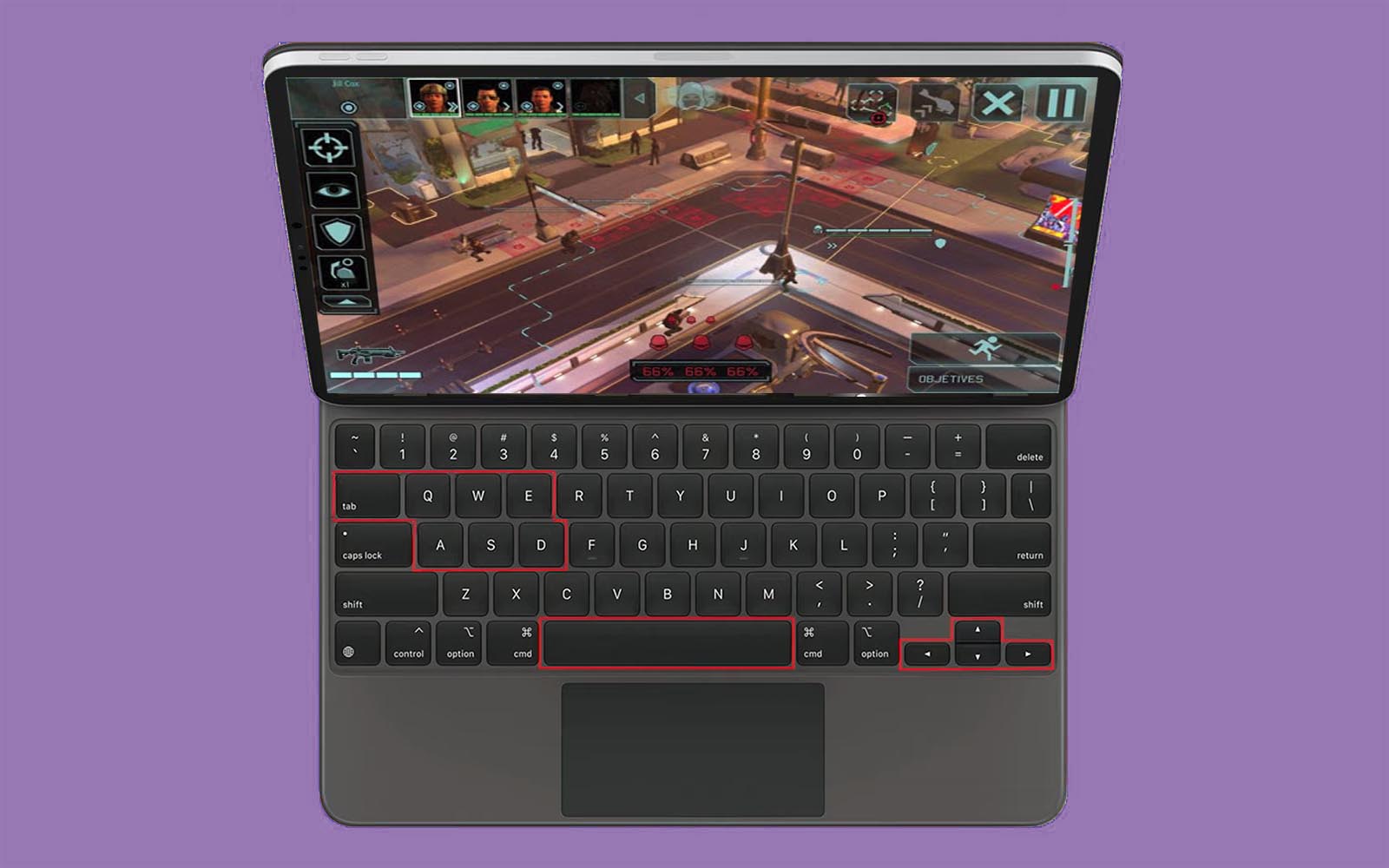 Genre: turn-based strategy, action, RPG
Developer: Feral Interactive Ltd
In-app purchases: not
Quite a well-known tactical game about the confrontation between people and aliens in the vastness of different planets and star stations. The player has access to many characters, weapons and battle tactics.
The game is the most expensive in today's collection, but it still takes about 8.5 GB. If you download all the available content and add-ons, you will need about 18 GB on the device!
The app does not officially support keyboard controls, so in rare cases you will need to use the tablet's touchscreen. In other cases, the block will be applied BATCH to move the camera, Q and E to change the viewing angle, the key TAB to change targets. Other buttons or a connected pointing device will allow you to perform a number of game actions.
Price: 2290 RUB
5. FAR: Lone Sail‪s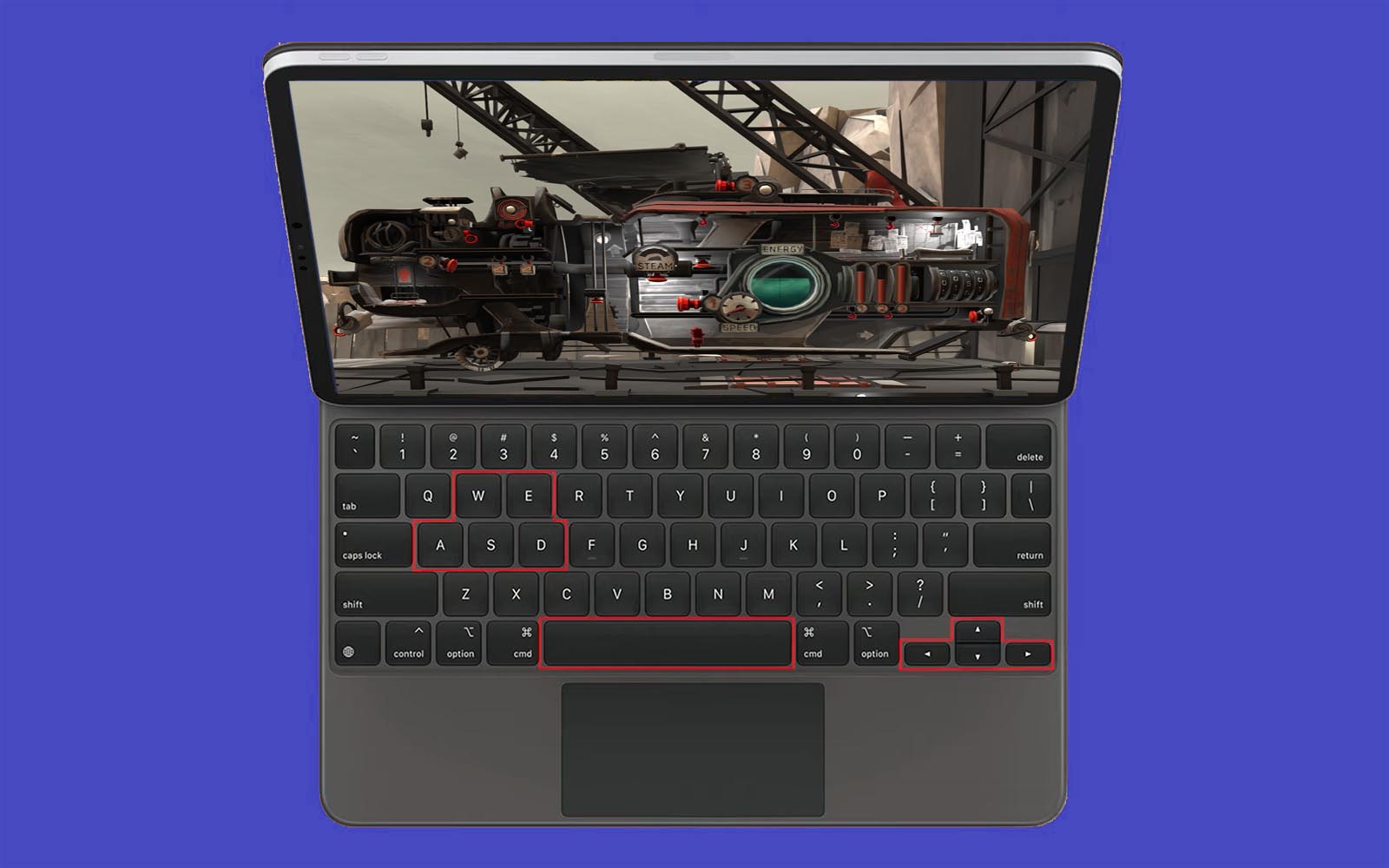 Genre: simulator, arcade
Developer: Mixtvision Mediengesellschaft mbH
In-app purchases: not
Our hero will control a vehicle in a post-apocalyptic world. There are no zombies or monsters here, just destroyed and deserted locations with little puzzles or plot parts.
The game has been available on other platforms for several years and only appeared in the App Store last summer. The developers almost immediately added support for keyboard controls.
Block BATCH used for navigation, arrow block for moving. The keys are still involved E and Space for action and jumping, respectively.
Price: 379 r
6. Kingdom Two Crowns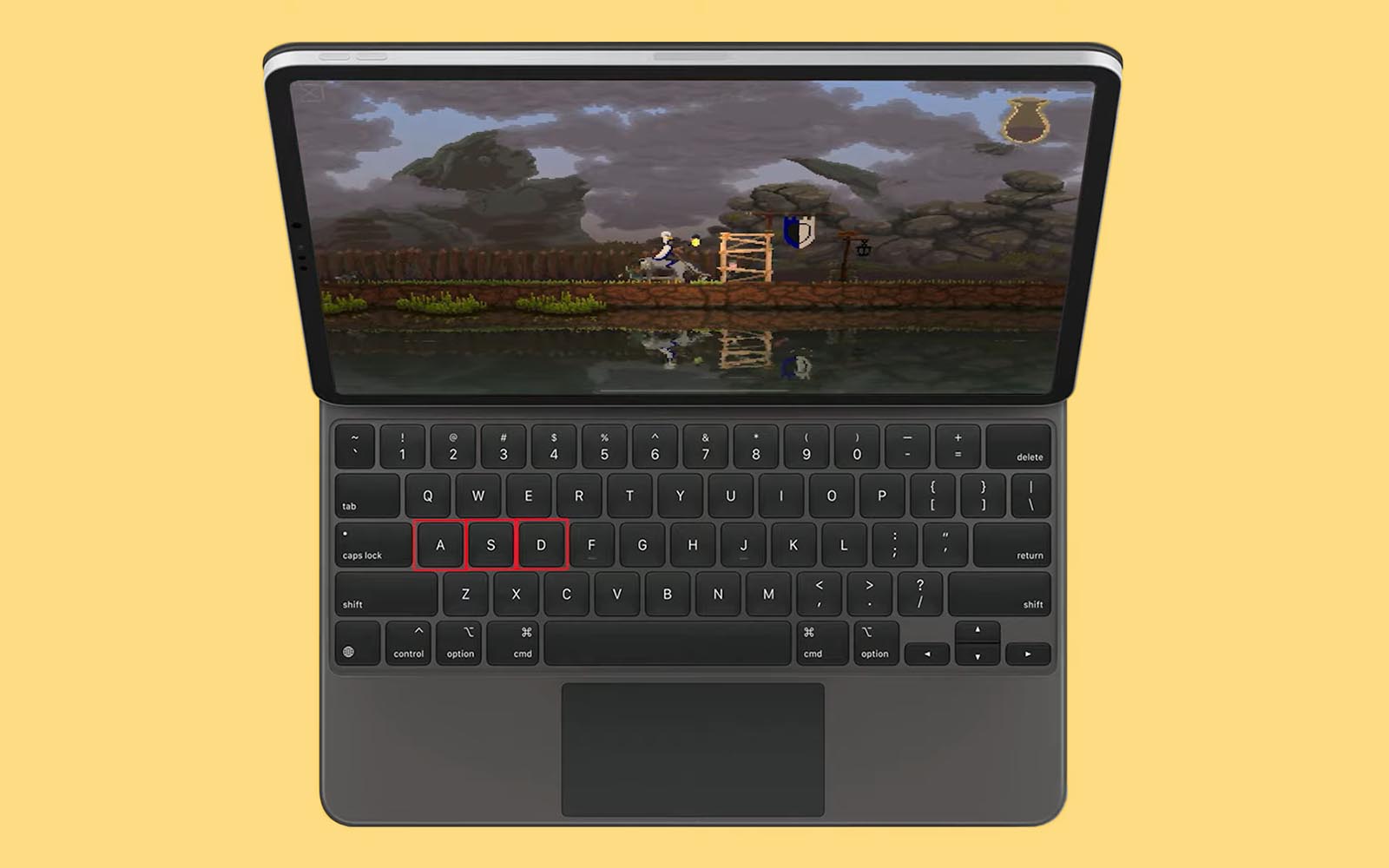 Genre: side-scroller, arcade
Developer: Raw Fury
In-app purchases: not
Nice side-scroller with pixel graphics and an interesting storyline. Will have to rule the monarch who sat on the throne of the crumbling kingdom. The whole game consists of moving around locations, finding allies and dialogues with game characters.
Only three keys are used for control: AD to move and S to take action.
Price: 899 RUB
7. INMOS‪T‬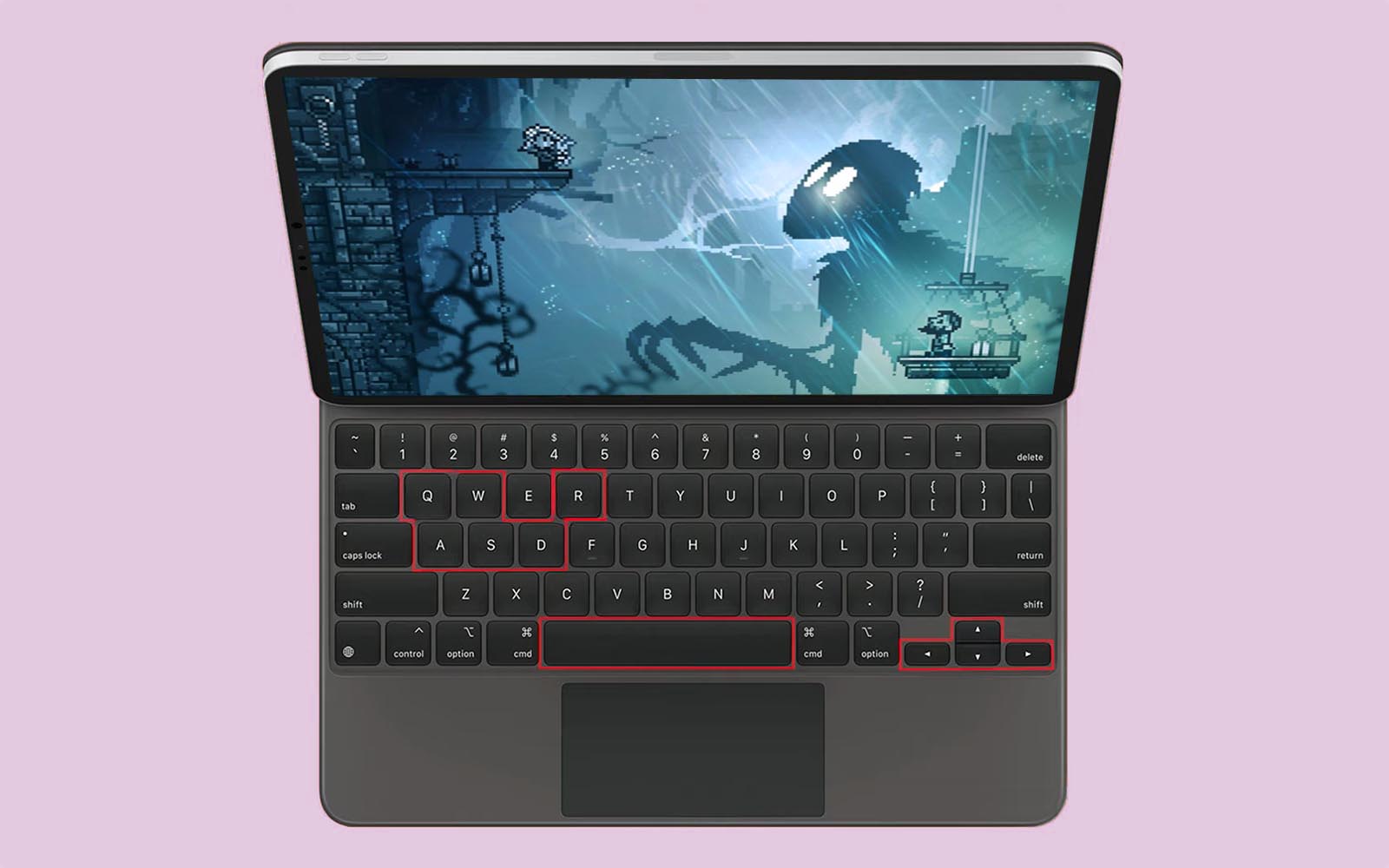 Genre: platformer
Developer: Chucklefish Limited
In-app purchases: not
It looks like the developers took notice of the promising niche and started adding keyboard support to their games since their launch.
You will traverse flat worlds with monsters and ghosts with one of three characters that differ in style and special abilities.
To move you can use arrow block or keys BATCH, besides this, the keys will be used Space, Q and R.
Price: available at Apple Arcade
8. Bad Nort‪h‬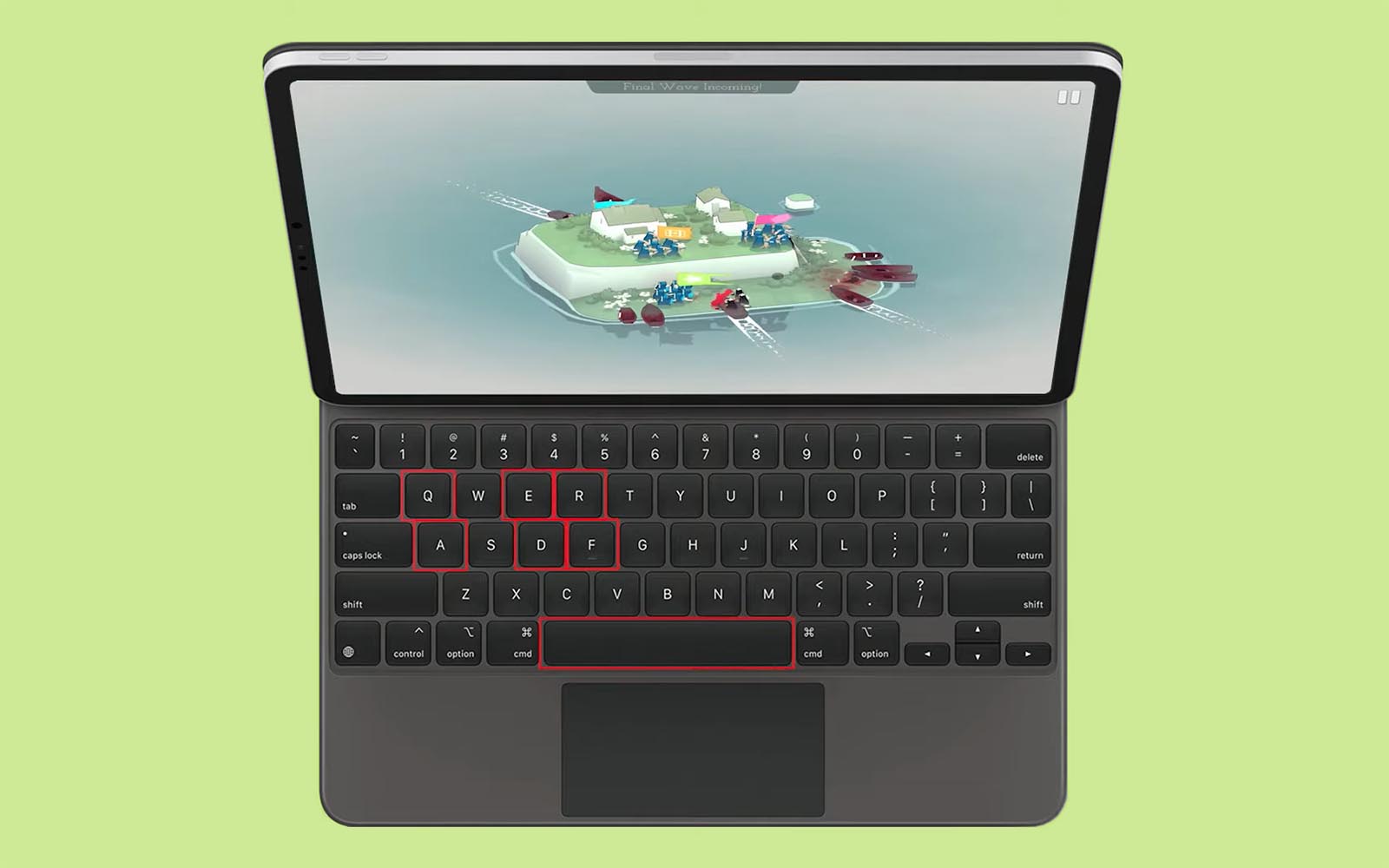 Genre: real time strategy
Developer: Raw Fury
In-app purchases: not
Real-time control strategy about the invasion of the Vikings on the peaceful islands of the settlers. Nice cartoon graphics and short game time allow you to while away a short break from work while playing.
All possible actions during the gameplay can be performed using the keyboard. There is a zoom and rotation of the map, switching between units and an action key for the selected unit. You must use the trackpad or an attached mouse to move the cursor.
Price: 449 r
9. Aruna's Adventur‪e‬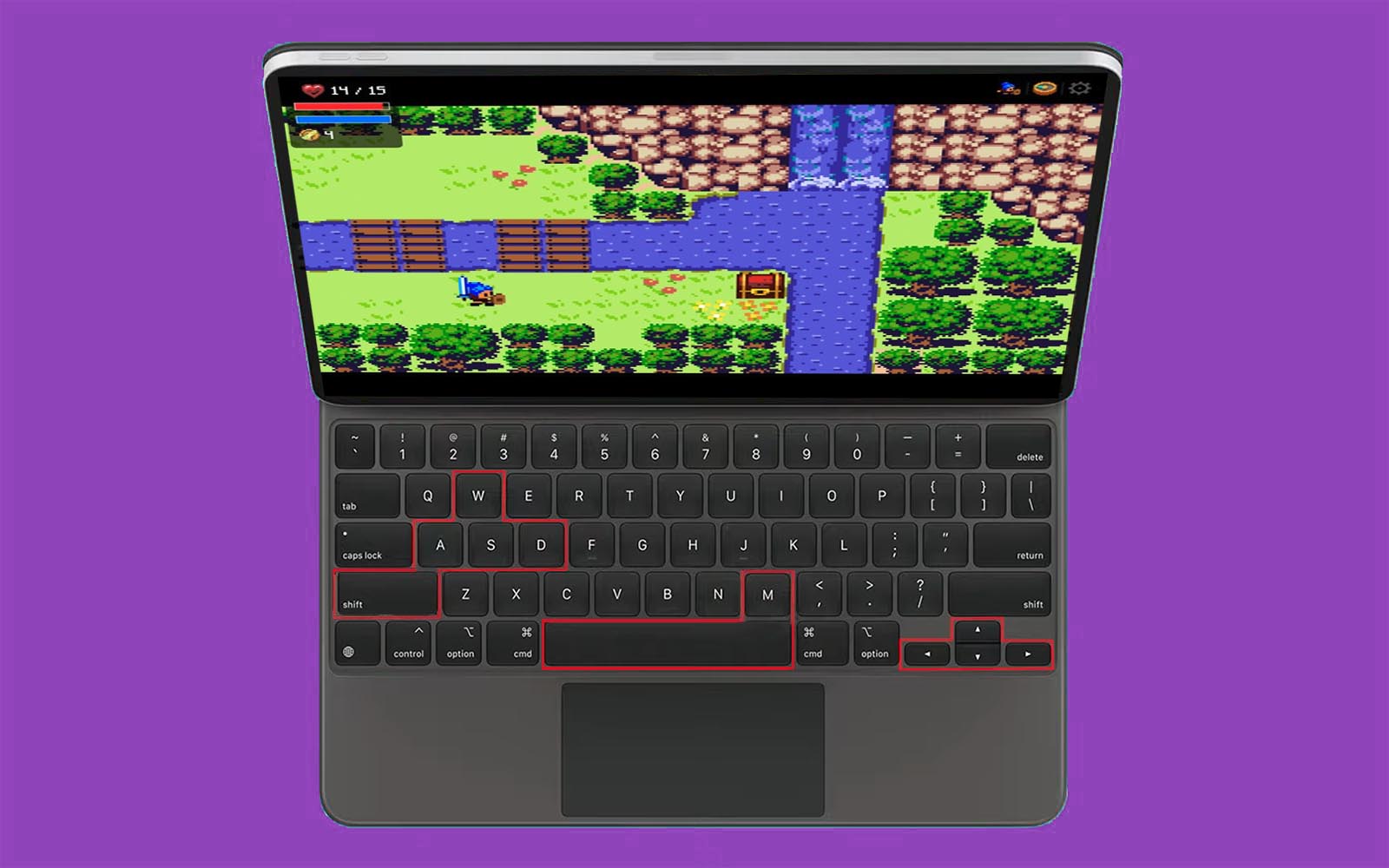 Genre: RPG, action
Developer: James Swiney
In-app purchases: not
A curious old-school RPG-style game on 8- and 16-bit consoles. There is a hero pumping, magic and a variety of inventory. Crowds of enemies in forests, castles and dungeons are waiting for you.
Blocks are used to move BATCH or arrows, Shift and Space use abilities, and the key M opens the map. The only thing missing is a separate button for viewing inventory, but the developers promise to add such a feature.
Price: 449 r
10. The Gardens Between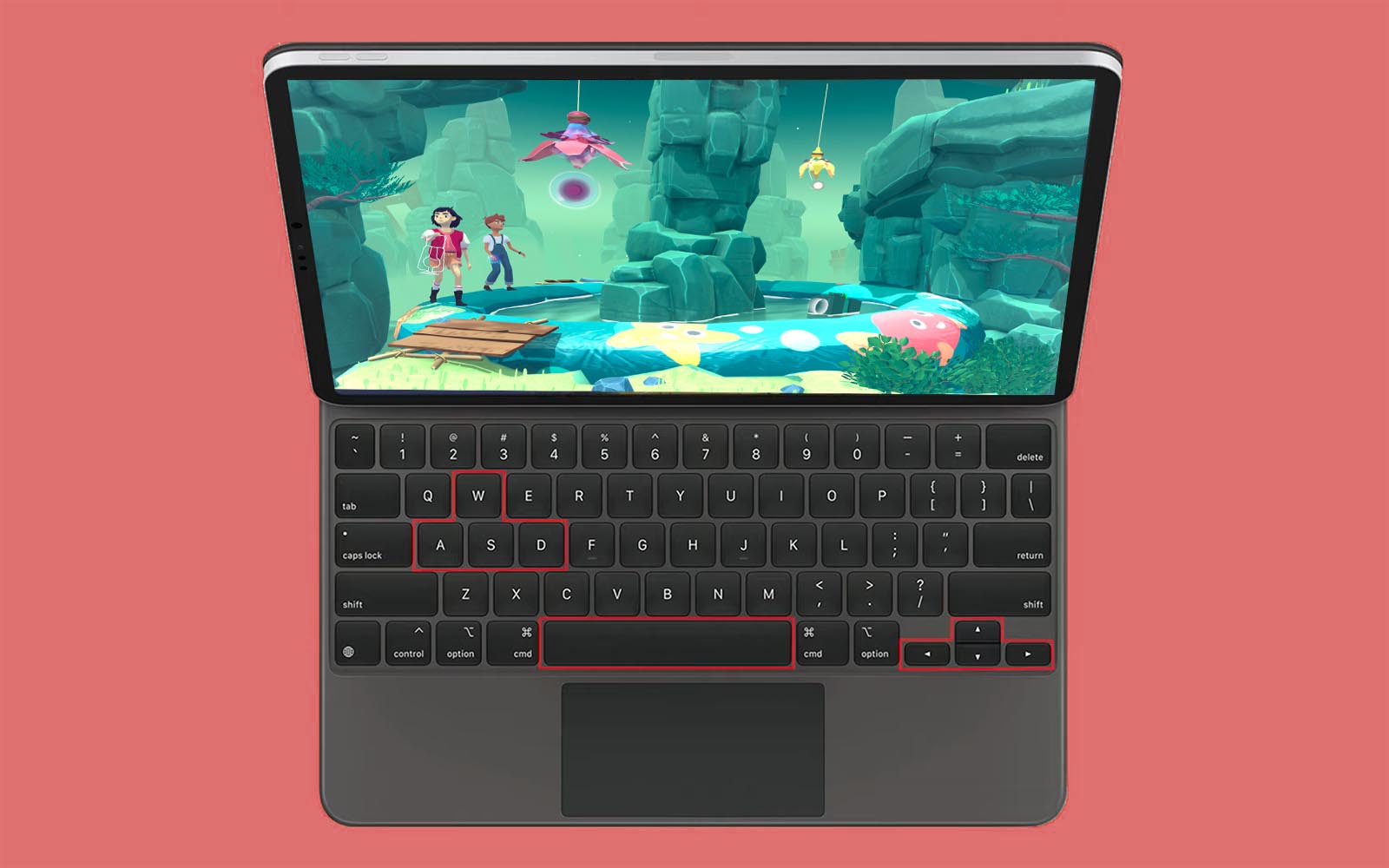 Genre: puzzle, puzzle
Developer: The Voxel Agents
In-app purchases: not
A couple of friends find themselves in a magical world with a bunch of strange objects. Each object is a small puzzle, passing which brings the player closer to the finale.
For keyboard control, use arrow block or BATCH, the key is also used Space… In some game situations and the application menu, you will have to use the touch screen.
Price: 449 r
11. Kenshō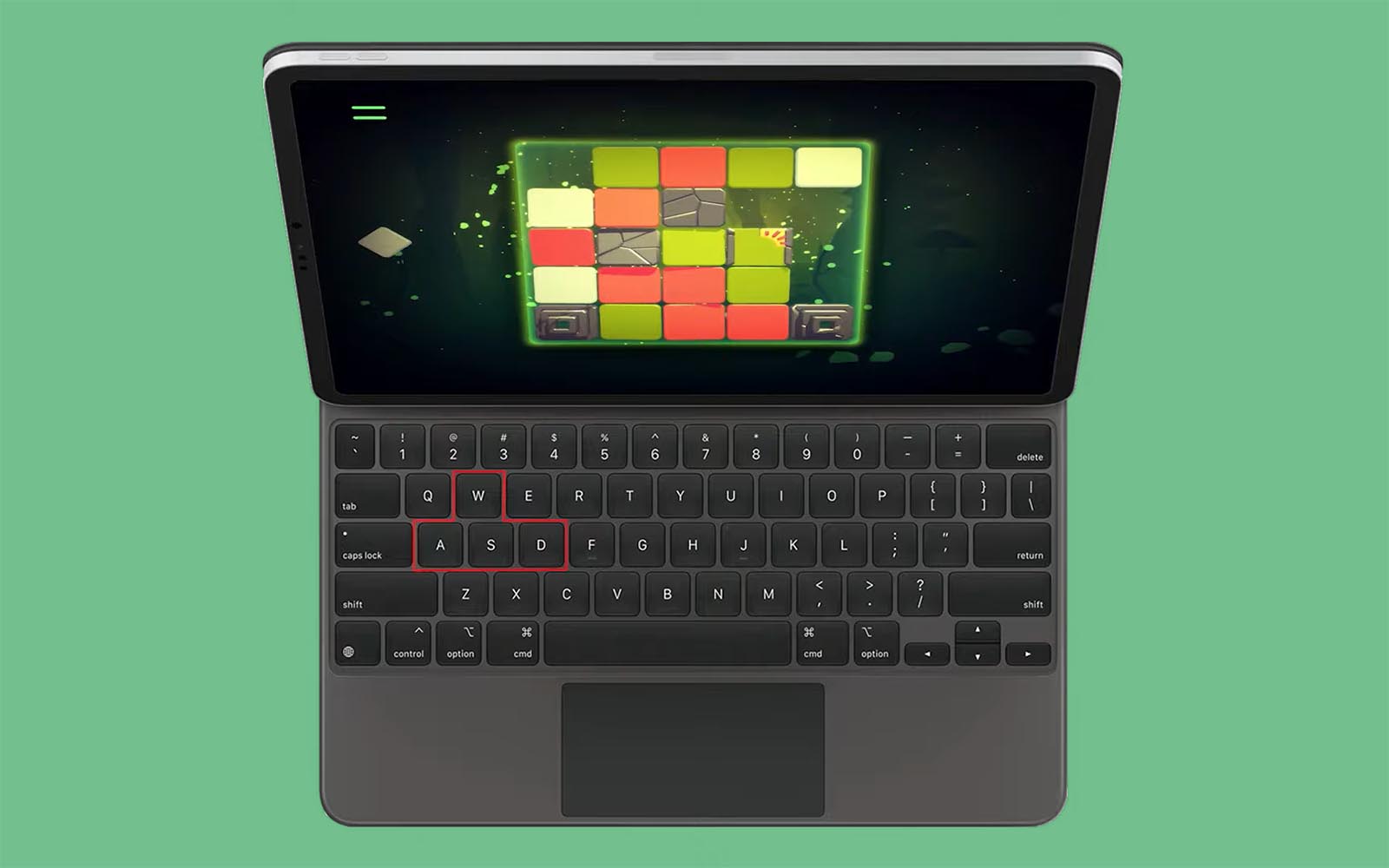 Genre: puzzle, puzzle
Developer: FIFTYTWO
In-app purchases: not
A simple puzzle, the developers of which took the principle of the famous game 2048 as a basis. Instead of digital blocks, you have to collect and "burn" colored cubes.
A large number of bonuses, various locations and victory conditions will diversify the gameplay. The presence of a small storyline slightly brightens the game.
All controls are possible using the keypad BATCH.
Price: 379 r
12. Agent Intercept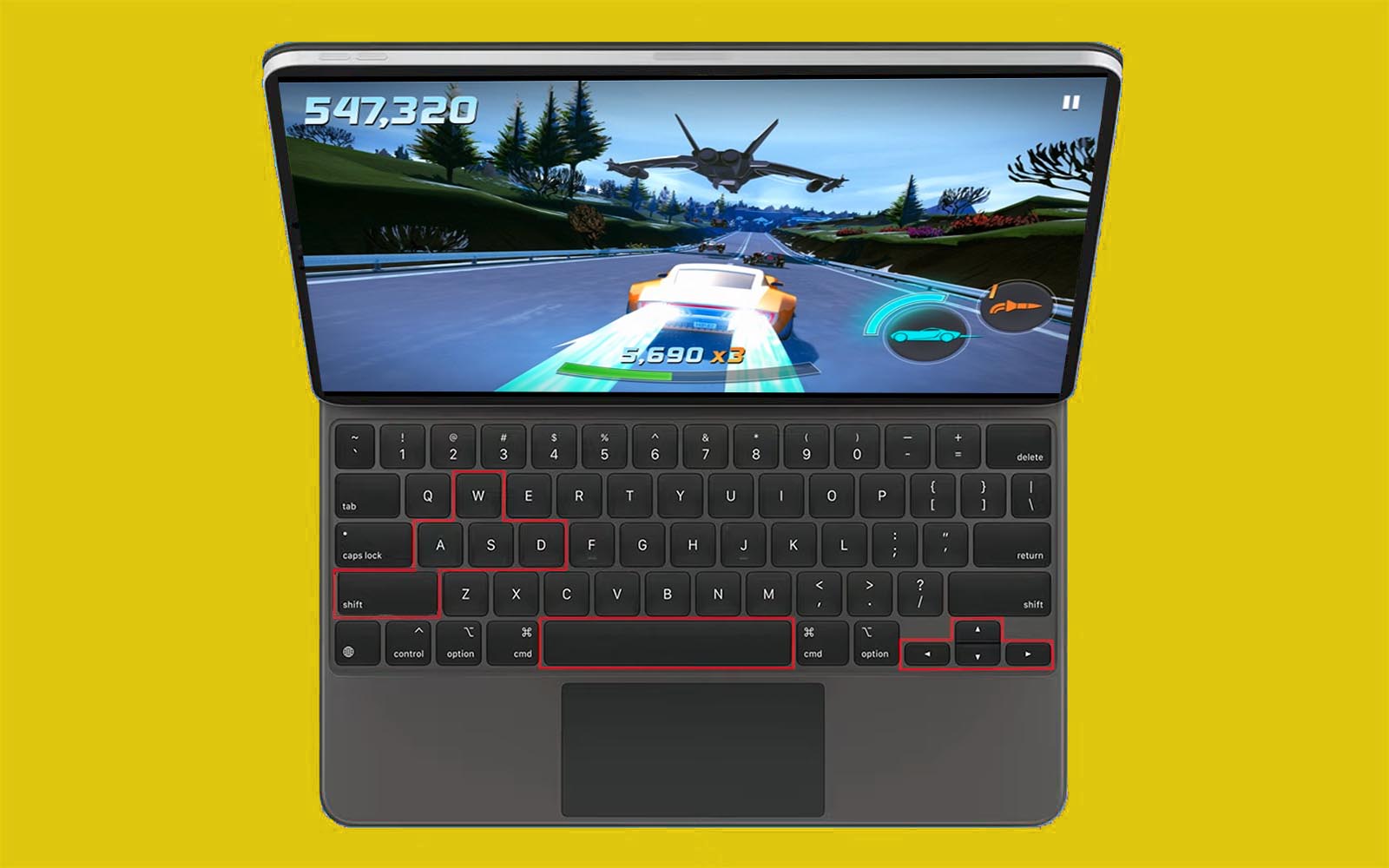 Genre: arcade, race
Developer: PikPok
In-app purchases: not
A dynamic racing arcade game in the style of a spy thriller. The player needs to complete various missions, chase enemies, dodge shelling and collect bonuses. All of this is peppered with winding tracks, drifting and jumping.
The keys are used to control BATCH, arrow block, Shift and Space… It's nice that full keyboard support is in the application menu.
Price: available at Apple Arcade
13. Terrari‪a‬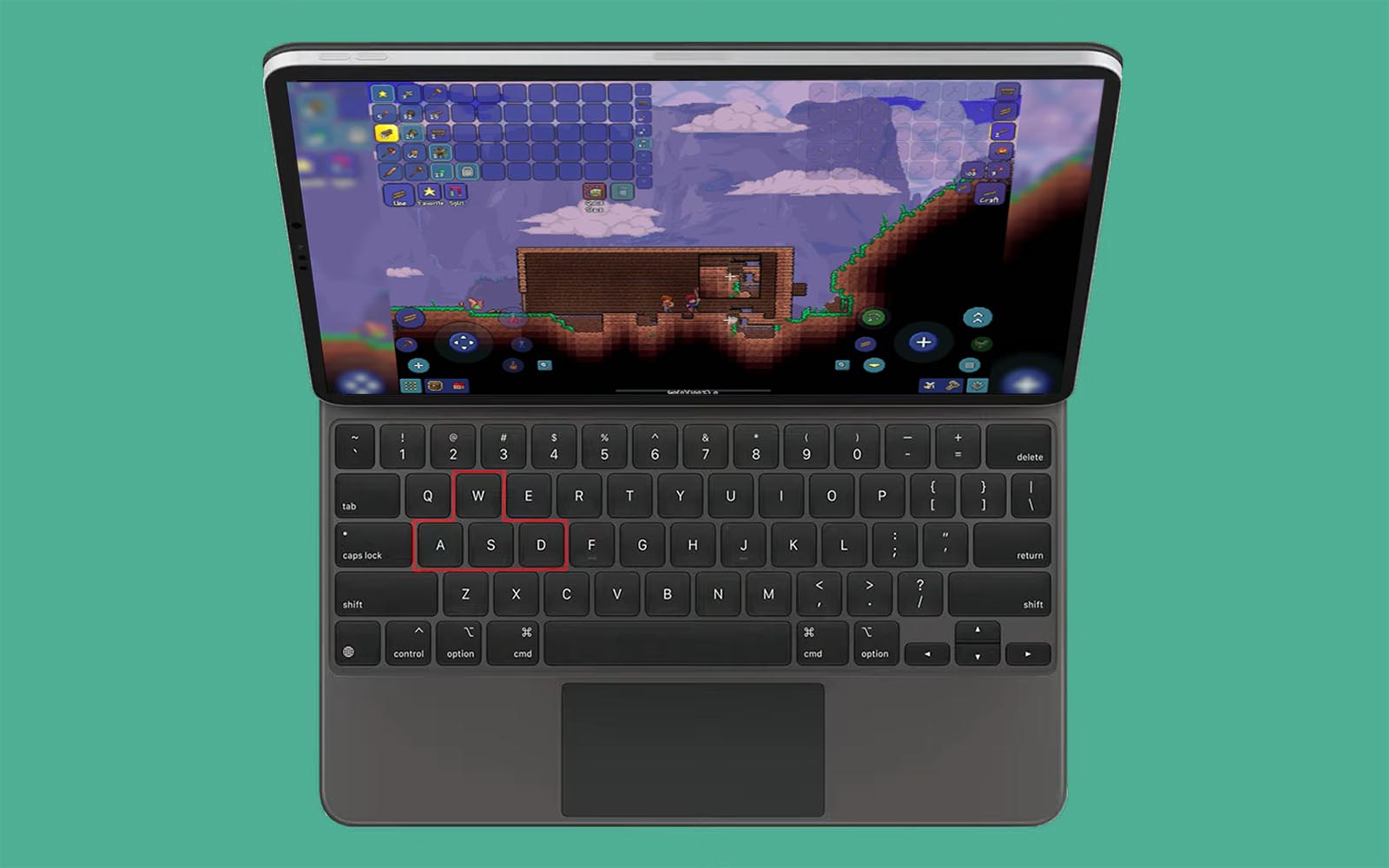 Genre: adventure, strategy
Developer: 505 Games (US), Inc.
In-app purchases: not
The mobile version of the legendary game played by millions of crafting and combat lovers in the cube world. You can fight online and gather up to 7 players in one skating rink via Wi-Fi or the Internet.
For the convenience of users playing on iPad, one of the updates added full keyboard support. Movements and some actions are carried out using a standard control unit BATCHyou need a trackpad or mouse to use the cursor.
Price: 449 r
14. Frogger in Toy Tow‪n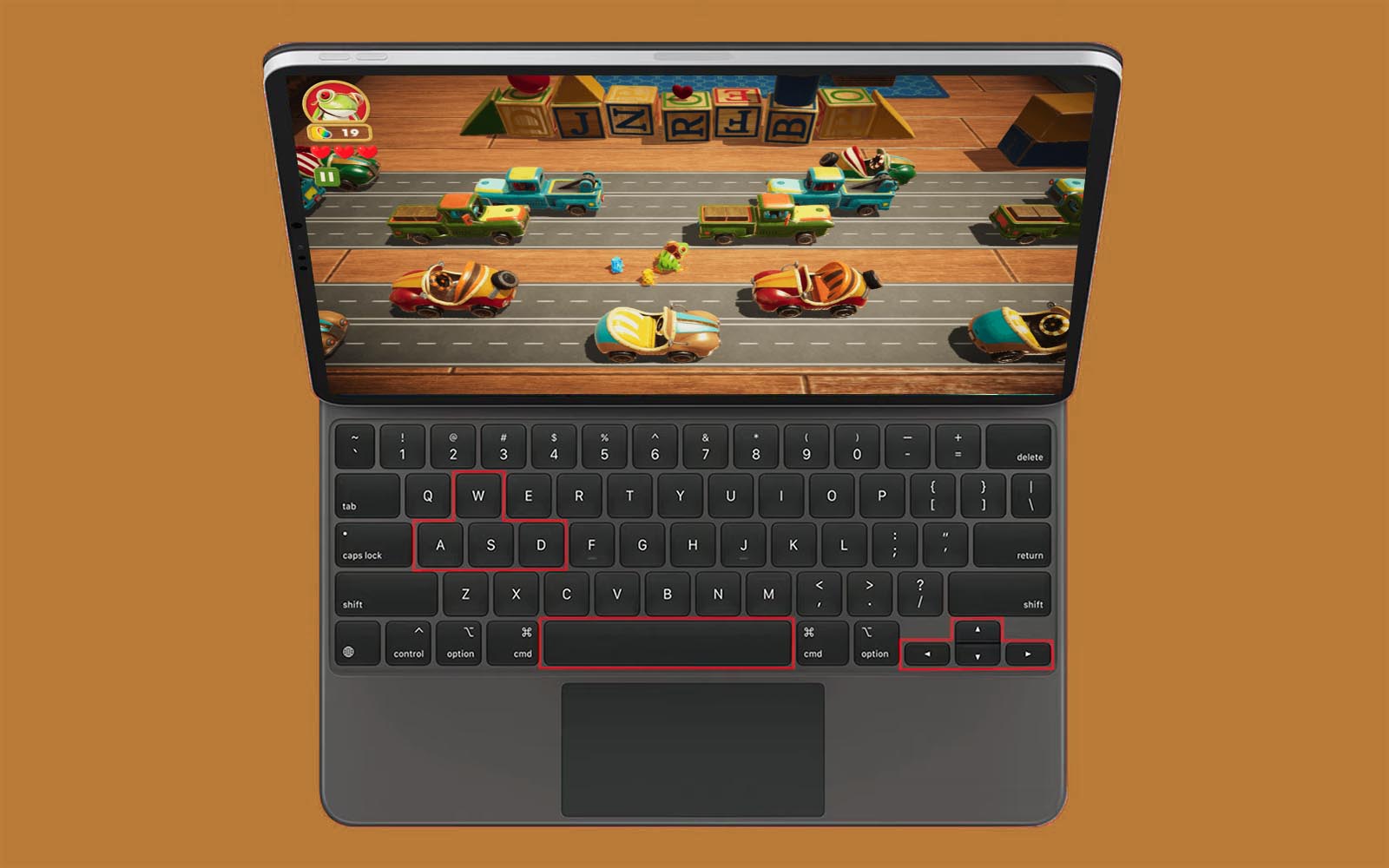 Genre: runner, arcade
Developer: KONAMI
In-app purchases: not
A simple runner with a frog in the title role is a remake of a classic arcade game from the last century. The player will have to move the hero around the playground with toys, overcome obstacles and dodge cannon volleys.
The already familiar control with shooter or BATCH together with the key Space will allow you to play much more comfortably than using swipes on the large screen of the iPad.
Price: available at Apple Arcade
15. Steam Link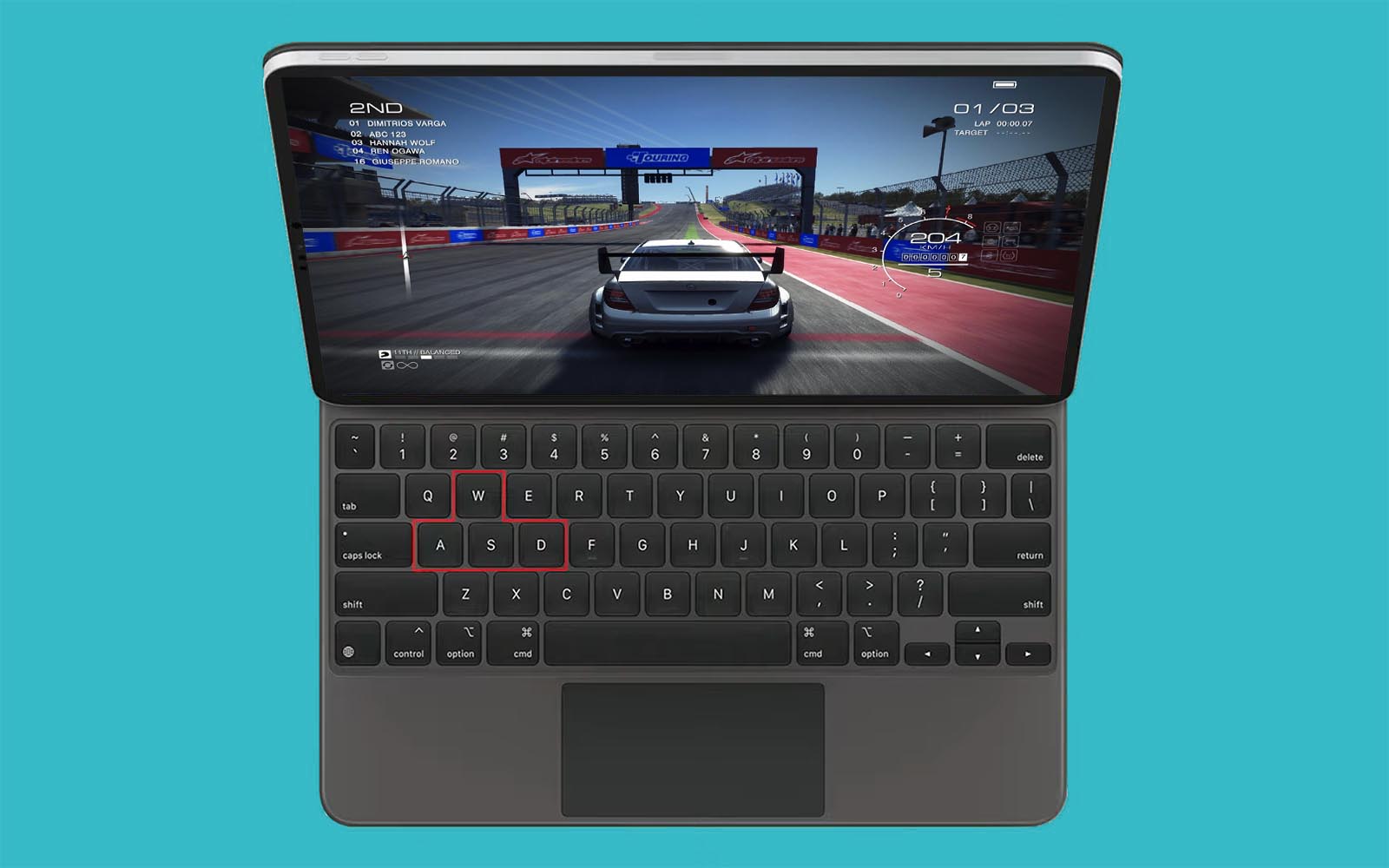 Genre: client for remote gaming
Developer: Valve
In-app purchases: no, you need to purchase PC games
This is not really a game, but a client that allows you to run full-fledged computer games on the iPhone or iPad screen. Any Steam purchased application can run on a mobile platform, and a recent client update allows most applications to be controlled using a keyboard and mouse.
This allows you to use your usual PC keys or pointing gestures.
Price: is free
Hopefully other developers start adding keyboard, mouse and trackpad support to their projects. We, in turn, will get another advantage of the iPad as a gaming device.
Games are games, and good sound is worth its weight in gold:

▪️ Portable speaker JBL Charge 4 – RUB 9 490
▪️ Transparent audio system with Hi-Fi sound – RUB 109,990
▪️ Stylish glasses with built-in acoustics – RUB 25,990
---
Source: iPhones.ru — Новости высоких технологий, обзоры смартфонов, презентации Apple by www.iphones.ru.

*The article has been translated based on the content of iPhones.ru — Новости высоких технологий, обзоры смартфонов, презентации Apple by www.iphones.ru. If there is any problem regarding the content, copyright, please leave a report below the article. We will try to process as quickly as possible to protect the rights of the author. Thank you very much!

*We just want readers to access information more quickly and easily with other multilingual content, instead of information only available in a certain language.

*We always respect the copyright of the content of the author and always include the original link of the source article.If the author disagrees, just leave the report below the article, the article will be edited or deleted at the request of the author. Thanks very much! Best regards!
---